Stapleton Schools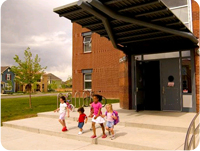 The Stapleton neighborhood is home to seven Denver schools. They are located throughout different neighborhoods within Stapleton and include everything from daycare too early childhood education to one of Denver's highest performing secondary schools.
Anchor Center for the Blind

Early Education
2550 Roslyn Street
Denver, CO 80238
303-377-9732

www.anchorcenter.org

The Anchor Center for the Blind is located in the 29th Avenue Neighborhood in Stapleton. It teaches visually impaired infants, young children and their families a nurturing environment where children can reach their highest potential. It educates nearly 400 blind children in Denver every year.

Denver School of Science and Technology

Charter High School 6th-12th grade
2000 Valentia Street
Denver, CO 80238
303.524.6324


The Denver School of Science & Technology in Stapleton is a charter school, part of the Denver public school system, catering to grades 6-12 and is located in the South End neighborhood. It is widely known to be one of the leading open enrollment STEM (Science, Technology, Education and Mathematics) in the US. It has consistently been the highest performing secondary school in DPS and sent 100% of their graduating class to a four year college for the 4th year in a row!! It also received $1M from Oprahs Angel network in 2010. Read about it here. DSST serves students from all parts of Denver with a student population of 65% minority and 45% low income.

Knowledge Beginnings

12 months to 8th grade
10325 E. 31st Avenue
Denver, Co 80238
303-329-4405


Knowledge Beginnings is a Daycare facility located in the Eastbridge neighborhood in Stapleton. It includes programs for Infants, Toddlers, Preschoolers and Kindergarteners with a variety of enrichment programs for each.

Montessori Children's House of Denver

Daycare – 6 weeks – 12 yrs old
2211 Xanthia Way Denver
Denver, CO 80238
303-322-8324


The Montessori Children's House of Denver is a private preschool and elementary school that was established in 1991 and is accredited by NCA-NASI. MCHD's curriculum emphasizes science, art, math, reading, geography, cultural studies, environmental awareness, nature study and peace education in a stimulating and nurturing environment where all children can thrive. Our first campus at 1467 Birch Street (Bellevue-Hale) occupies a beautiful brick house that was once an early-Denver farmhouse. MCHD's four campuses in Denver's Stapleton, Park Hill, Mayfair and Hilltop neighborhoods provide comprehensive education to toddlers, preschoolers, and elementary students in their communities.

Primrose School

6 weeks – 11 years
2501 Syracuse Street
Denver, Co 80238
303-322-7200


The Primrose School in Stapleton is located in the 29th Avenue Neighborhood and offers educational childcare with an expertise in early childhood development. Their curriculum includes two philosophies which include 1) a child-initiated approach in which children are free to explore their individual interest and 2) a teacher direction approach in which the teachers lead children on a consistent learning path.

Swigert-McAuliffe International School

Denver Public School ECE3 – 2nd grade in 2011
35th Avenue & Syracuse Street
Denver, Co 80238
720.424.4800


Swigert-McAuliffe International School is Stapleton's newest school located in the Central Park West neighborhood. Currently, the school consists of Principal Chuck Raisch, six teachers, an ECE3 class, two ECE4 classes, two Kindergartens, and a 1st grade housed temporarily in Westerly Creek. In August 2011, the school will move into its own building at 35th and Syracuse, where it will offer ECE3 through 2nd grade for the first year. In 2012-2013, Swigert-McAuliffe will expand to offer ECE through 3rd grade, plus 6th grade. The plan is that eventually, the building will house two separate schools--an elementary school on mostly the first floor and a middle school on mostly the second and third floors.

Westerly Creek Elementary School

Denver Public School ECE-5th Grade
8800 E. 28th Avenue
Denver, Co 80238
303.322.5877


Westerly Creek Elementary school is a Denver Public School serving early Childhood education through 4th Grade. In 2012 the school will become an ECE – 5th-grade school. It's located in the Westerly Creek neighborhood of Stapleton and was Stapleton's very first school. It is devoted to the DPS Core Curriculum which includes the Literacy and Everyday Math programs as mentioned above. It also includes a dedication to advancing the arts, physical education, technology, and character.

William R. Roberts

Denver Public School ECE-8th Grade
2100 Akron Way
Denver, Co 80238
720.424.2640


The Bill Roberts school in Stapleton is a Denver Public School serving ECE through 8th grade and is located in South End Neighborhood. The curriculum for K-5 incorporates Denver Public Schools Literacy Program and Everyday Mathematics. The Literacy Program includes 90 minutes of uninteruped reading, writing and literacy skills per day for each grade level. The Everyday Mathematics curriculum includes Real Life Problem Solving, Balanced Instruction, Multiple Methods for Basic Skills Practice and Emphasis on Communication. The campus is a green campus using geothermal renewable energy to heat and cool the building.