Central Park Recreation Center
The 54,000 square foot Central Park Recreation Center is open to Denver residents. This $19 million facility is the icing on the cake in one of the best master planned developments in the nation. Located on MLK Blvd. and Emporia Street, it has some of the best views of the mountains in all of Central Park.
Upon walking in the front door, one cannot help but notice the stunning views of the Rocky Mountains framed through the large windows. The cardio fitness area is lined up in front of these windows so that you can enjoy the view while working out. Not a "view" person? There are plenty of TV's on display if you need some additional stimulation.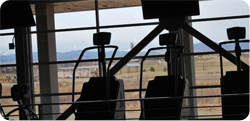 There is a NCAA regulation sized basketball court runs north and south and can be converted into two junior courts that have basketball hoops that can be lowered to 8 feet. There are also two volleyball courts. Both sports will have leagues for adults and children.
The swimming pool area is all indoors and is designed with every age in mind. There is a "lazy river" that flows through part of the kids pool, a four lane lap pool that has a slide and three water basketball hoops. Looking to have a pool party for your kiddo? Look no further.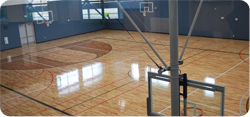 Also on the lower floor will be the weight room with brand new weight equipment, a circuit training room and a community room that can be rented for events. There is a party room just adjacent to the pool area in the Central Park Recreation Center that can be rented out for parties. If you enjoy yoga or organized cardio classes, the lower level has a large aerobic room with wooden spring floors and a spinning room with 17 new Lemond bikes.
Finally, there will be child daycare available for your kiddos while you work out. There will be an extra fee for the supervision of your kids. The fee for usage is the same as every other Denver Rec Center, $190 annually per adult, $35 annually per child 17 and under. The Central Park Rec Center is located at 9651 E. MLK Blvd. There phone number is 720-865-0750.