Central Park Central Park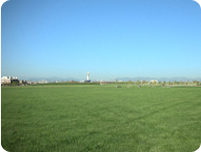 Central Park has Denver's 3rd largest Park called Central Park and was voted one of the top ten parks in the West by Sunset Magazine. It is an 80-acre playground located just to the North of Martin Luther King Blvd. and east of the Central Park Control Tower. Half of Central Park was designed to reflect the Rocky Mountains high plains environment utilizing native grasses, wildflowers, shrubs and tree species. The other portions of the park include a large green grassy area which is used for soccer, flag football, Frisbee, kite flying, picnicking and just about anything else you can think of.

Central Park Central Park is an ideal place to walk or run given the vast amount of walking trails throughout the area. It includes hard and soft trails that have different elevations. There are 25 miles of walking and biking paths in Central Park which means you can really get a great workout without ever having to go into the street.
There is a large stage area for concerts and a building that is slated to be a café. Sit on top of the large semicircular hill that surrounds this staging area and you will be awed by the sweeping mountain views. It's my favorite place to sit, watch the sunset and have a glass of wine. It's also a nostalgic feeling when you see the former airports' Lookout Tower.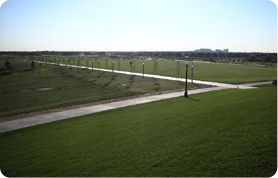 To the east end of the park, there is a small lake for model boats and trails galore. Although I see more dogs swimming in the lake than boats.For children, there's an interactive water fountain with a series of dancing water arcs that shoot from the ground and a $1M state of the art children's playground with whimsical foam purple mountains, purple misting trees, climbing rocks, musical chimes and drums and sand and water play.
On the Northwest corner of Central Park Central Park, you will find a 35' tall hill that was designed to sled down when covered with snow. It's fun for kids and adults alike and has easy access to parking just off 33rd.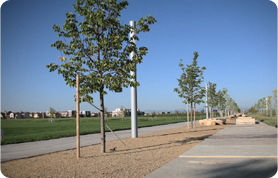 It also includes an urban forest which includes lots of trees and benches so you can sit, relax and enjoy being in a forest, right in the middle of the city. As of right now, the forest is in its dwarf stage, but give it a few more years and it truly will be a forest in the city.
Looking for Central Park homes for sale? Contact the Neir Team today!