First-Time Home Buyers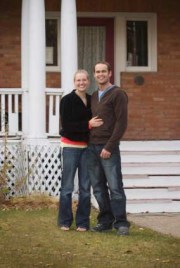 Congratulations, you've decided to purchase a home. Homeownership can be one of the most rewarding endeavors you'll take. Not to mention one of the best things that you can do to build wealth.
We've created a simple guide that outlines the steps to ensure you understand the process and are ready to go.
Pre-Qualification: Meet with a mortgage broker and find out how much home you can afford. This is an important step as you want to start with a home payment that is comfortable. Once a payment is determined your mortgage broker can give you a home purchase price that meets your desired payment.
Pre-Approval: The preapproval process involves submitting all of the paperwork necessary to secure the loan to your lender. This allows your lender to fully underwrite the loan and provide you with an approval. This is an advantage in situations where you are competing with other homebuyers for a particular home. Showing that you are approved means there is less risk for the seller in excepting your offer.
List of Needs & Wants: Make 2 lists. The first should include items you must have (i.e., the number of bedrooms, bathrooms, square footage, garage, yard, etc). The second list is your wish list. Include everything you would love to have. The wish list will allow you to Compare multiple houses that meet your initial needs. Plus, it's a fun list to put together.
Get Representation by a Professional: Your buyer's agent gets paid by the seller. Therefore, it is free for you to use a professional to buy a home. Your realtor will provide invaluable advice as to what you need to be doing and thinking about throughout the transaction. They will protect your interests and earnest money and negotiate on your behalf.
Focus & Organization: Set up a property tracker account that will allow you to save homes, area searches and get alerts for price changes and new listings.
Be Objective: Does this home meet your needs? Ask your broker their opinion of the home and location. Is it a good investment? There are many houses on the market, so don't make a hurried decision.
Be Thorough: A few extra dollars well spent now may save you big expenses in the long run. Be sure to have the property inspected by a professional inspector in addition to a sewer scope and radon test. Check out our Home Buying Process for detailed information about inspections.
All the above may seem rather overwhelming. That is why having a professional represent you and keep track of all the details for you is highly recommended.
Need help? No problem, we would love to answer any questions you have - just ask.