Yes, Denver is this good!
Posted by Alex Neir on Friday, October 20, 2017 at 11:23 AM
By Alex Neir / October 20, 2017
1 Comment
The ultimate guide to what makes Denver so great.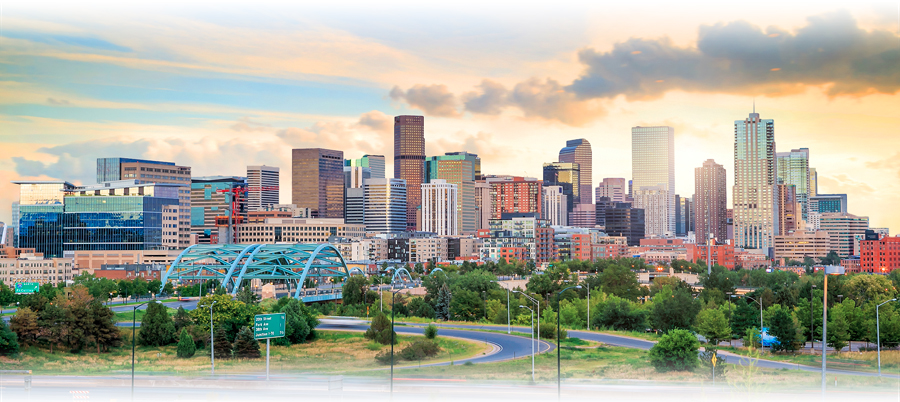 What's the deal with Denver? It seems like every week there is an article, post, tweet or broadcast about how great Denver is. Is it that great…..? What does the city offer that has the country buzzing about Denver? As a native of Denver, I have seen the city come of age over the past decade or two. It is certainly not the same city I grew up in and for the most part, it's much better.
My opinion, the national hype is well justified as this city rules on a number of fronts. I put together this guide to Denver to help clarify what I see as Denver's strengths. If you are thinking about moving here, I hope this article helps. If you live here I hope this article rings true. Hit me up in the comments if you think I missed something or I'm off base and yes, Denver is this good.
We are extremely lucky to live in a place that has so much to do and with such friendly people to do it with. If you need convincing you have found the right post. I'll try to narrow it down to the top 14 reasons why you will love moving to Denver. I'm never leaving as it keeps getting better and better every year.
Somewhat less interesting facts about Denver:
Population (Denver Metro): 693,060
Population (Greater Denver Area): 3 million
Unemployment rate in Denver: 7%
Median Home Price (Denver County): $362,800
Median Household Income: $53,637
Average Commute Time: 26 minutes
1.) Denver Has Amazing Views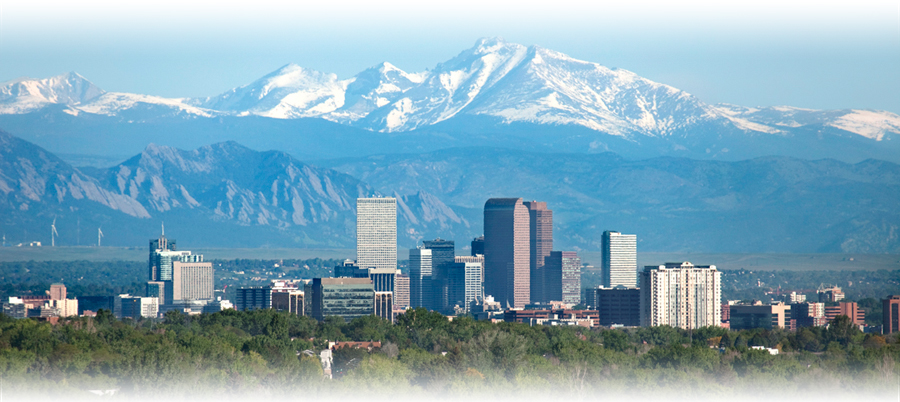 If you grew up here or have lived here for any amount of time you know what I'm talking about. When the sun sets behind the mountains each night you're in for a real treat. Especially, on nights when a few clouds remain on the horizon, hovering over the front-range acting like a sponge soaking up the last of the ambient light. The clouds infuse in an array of oranges, pinks, and purples that make you pause and appreciate your decision to live here. Move to Denver and inspiration will follow. There aren't many spots in Denver that an inspirational view can't be found. Lots of mini vistas can be found all over the greater metro Denver area providing panoramic views of the Rocky Mountains. But the closer to the West you go, the more "in your face" and powerful the view becomes.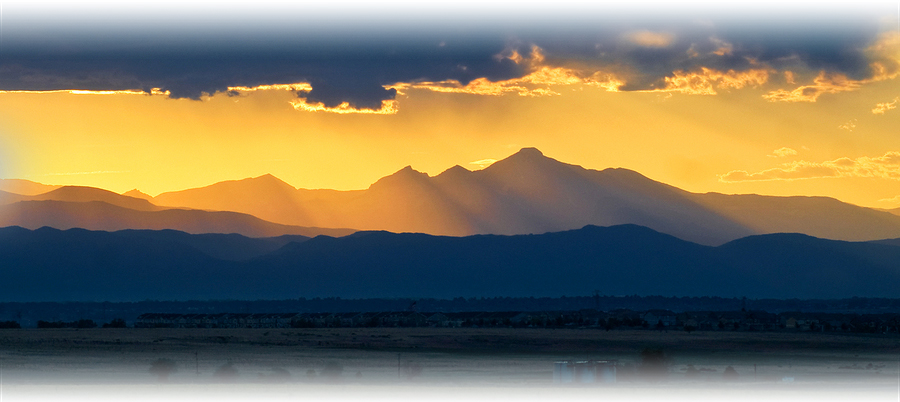 The cosmopolitan vibe of the city subtly shifts to a more mountain feel and larger lots become more desirable and valuable. Areas like Lakewood, Evergreen, Morrison, Ken Caryl Ranch and Deer Valley command lot premiums for desirable lot locations. Drive an hour south and you are at the foot of Pikes Peak and an hour north gets you to the foot of Longs Peak. The views at both locations are the reason millions of tourists travel to Denver every year.With the majestic Rocky Mountains providing an impressive backdrop for the setting sun combined with Denver's crisp alpine air, you'll quickly get a sense for why so many people are moving to Denver. The mood the mountains create, combined with clear blue sky and crisp alpine air, forces you to greet every day with delight and gratitude. That sounds cheesy, and perhaps it is, but there is truth here. The energy that's created by the weather in Denver is unmistakable. People in the city seem to radiate a sense of optimism, friendliness, and enthusiasm that is manifested by the atmosphere. Every time there's an astonishing sunset in Denver (which is a lot), social media blows up with sunset pictures. It's a testament to the beauty of Denver that sometimes gets taken from granted…and is a big reason why YOU should consider moving to Denver.
2.) Denver Jobs Are Ample
Drive around Denver and you'll be overwhelmed by the number of cranes hovering over what seems like every block of the city. I'm not kidding, it's crazy! We counted 35 while driving into downtown Denver last night from the east. All over the greater Denver area, the same thing is happening. Commercial, office, retail and residential buildings are going up everywhere. Since 2014 Downtown Denver has added 1.6M square feet of office space with another 1.5M square foot under construction and $1M more planned in 2017. Denver is a growing and thriving tech hub, with 644 tech startups employing over 4,500 people. There have been 160 tech businesses founded in Denver in just the last year. Denver has a robust startup community combined with one of the most highly-educated and fastest growing workforces.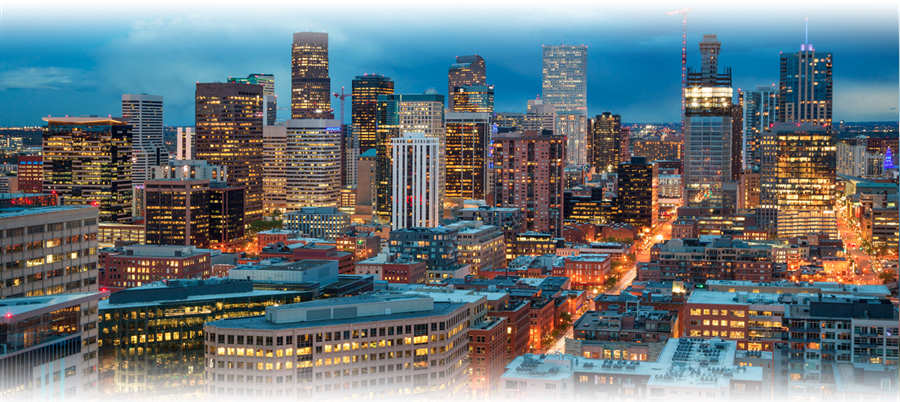 This combination makes Denver a very attractive place to start and grow a business. Many high profile companies are consolidating or moving their headquarters to Denver because of the ease of attracting talent to Denver. In addition to Whole Foods and Prologis, Quote Wizard's VP, Kuba Poraj-Kuczewski said: "We considered several cities for expansion but chose Denver because it's home to a very talented and savvy workforce." BP Lower 48 CEO Dave Lawler is relocating their headquarters to Denver and said: "We see Denver as an important energy hub for the future." SyncHR CEO Pamela Glick is moving their headquarters to Denver and said "Moving to Denver increases opportunities for collaboration with other front range tech leaders." Denver is also considered the "Napa Valley of beer". The brewery industry in the city and state are robust to put it lightly. Colorado ranks 3rd in breweries per capita (behind Montana 2nd and Vermont 1st, Vermont, who knew?). The unemployment rate in Denver is an incredibly low 2.7%. Low unemployment, a highly educated and fast-growing workforce makes for health job market. This translates into a healthy housing market that is great for home values. If you own a home in Denver, and things keep growing like they have been, your smile will grow wider and wider as you watch your equity continue to skyrocket.

3.) Denver is Incredibly Friendly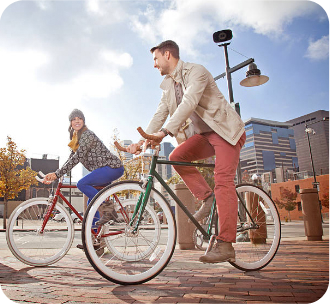 One of my favorite things about Denver is how friendly the people who live here are. Any place you go you can strike up a conversation with a complete stranger. This is an incredible attribute of our fine city. Let's face it, moving to a new city can be incredibly difficult as you typically leave all your friends in the previous city. That's what makes Denver so remarkable. Building a new network of friends is as easy as going to the grocery store, local park or your front porch. You just have to be comfortable talking to complete strangers. If you open up to people you will find they'll be friendly, courteous and engaging. I love working with clients from the east coast and big city mid-west. It takes them a while to adjust to everyone smiling directly at them, holding doors, saying hello and generally being outwardly friendly with no agenda. The city makes you feel great and when you feel great you want to smile, be helpful and connect with people. That's Denver's vibe in a nutshell.
4.) Denver Ski Resorts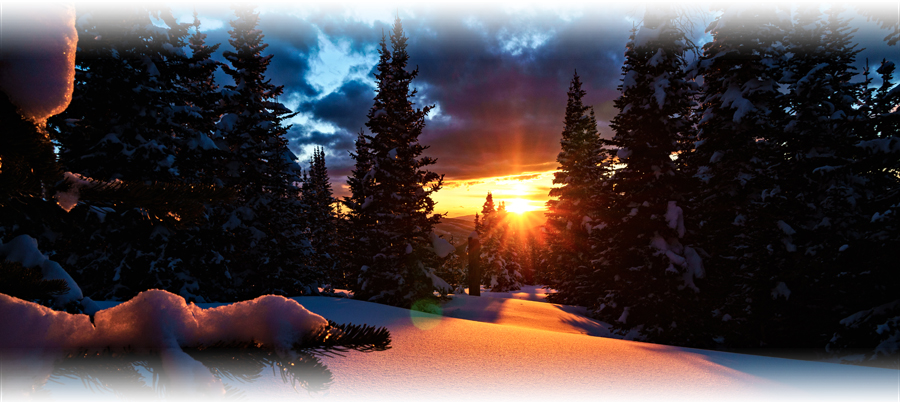 "Colorado is the #1 destination for skiing in the country" A designation that our ski industry and state covet. Colorado consistently places numerous resorts in the top 10 for best skiing and snowboarding annually. You may ask, "Why is the skiing so good?" Here are a few reasons. The first reason is the snow. Living in Denver we are so blessed to have the Rocky Mountains in our backyard. The Rockies are the highest mountain range in the US, which translates into lots of light and fluffy snowfall that is the best on the planet. I have been skiing and snowboarding in Colorado since I was three and I have to attest, we are spoiled with the snow here. The second reason is the ski season. We have the longest ski season in the US. Many of the resorts in Colorado have base elevations above 11,000 feet. This high elevation allows them to open early, sometimes as early as October and close later. It is not unheard of to be skiing at Arapahoe Basin in July. Crazy, I know!
Third, Colorado has some of the largest and most prestigious resorts in the US. Vail is the alpha dog of Colorado and is the second largest resort in the US having been surpassed by Park City in Utah. Which, by the way, Vail Resorts has purchased. Aspen is a world-class destination sought out by the rich and famous. Telluride's terrain quality and variety is unmatched. Steamboat Springs is a quintessential Colorado mountain town and offers amazing inbound and out-of-bounds terrain. Colorado offers 27 ski areas to choose from that offer something for everyone. If you are just starting I suggest Keystone's ski and ride school. They offer a great progression program that will get you going faster than any other program I have tried. If you are intermediate I suggest Copper Mountain. The mountain's topography is such that all the black runs (expert) are on the east, the blue runs (intermediate) are in the middle and the green runs (easiest) are on the west side. It makes it easy to stay in your comfort zone while testing yourself without getting in over your head. If you're advanced I suggest Beaver Creek. The mountain is steeper and more technical than almost all the "Denver close" resorts. If you're looking for the best place to go with the family, it's Vail without question. There are so many great things to do before and after skiing. Moving to Denver gives you access to some of the best skiing on the planet and is just one of many perks of living here.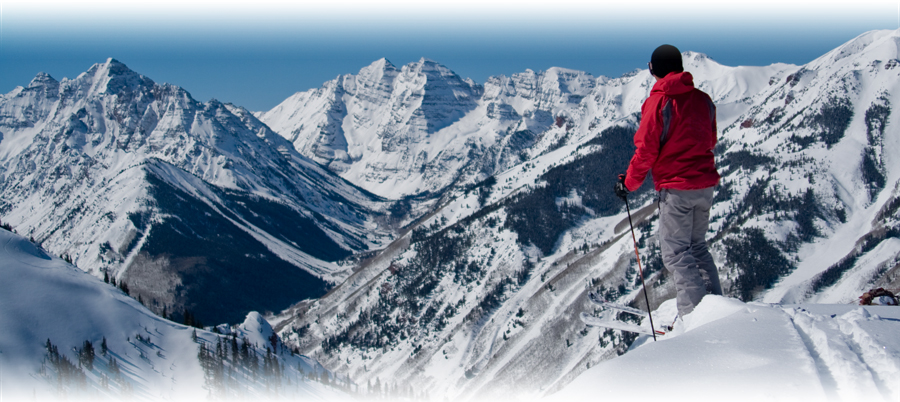 5.) Living in Denver is still relatively affordable
Homes for sale in Denver are still relatively affordable, however, affordability is under attack! The supply vs. demand equation is out of balance as there are not enough homes for sale. While living in Downtown Denver may not be the best choice if you are looking for affordability, there are numerous city close neighborhood that are great alternatives. Some of the most underrated spots include the Cole Neighborhood, Ruby Hill, Barnum, Elyria-Swansea, North Park Hill and Hale. Whether you're searching for a condo in Downtown Denver, a home in City Park or the suburbs of Denver like Wheat Ridge, Englewood, Littleton, Centennial or Superior, you'll quickly understand that homes are priced sensibly for the quality of life, low cost of living and economy. Living right next to the mountains with amazing recreation all over the place is just a perk. To put Denver's low cost of living in perspective, the Cost of Living in Denver is 33.17% lower than in New York. Additionally, you would need $8,000 in San Francisco to maintain the same quality of life that $4,873 delivers in Denver.
6.) Denver has GREAT Restaurants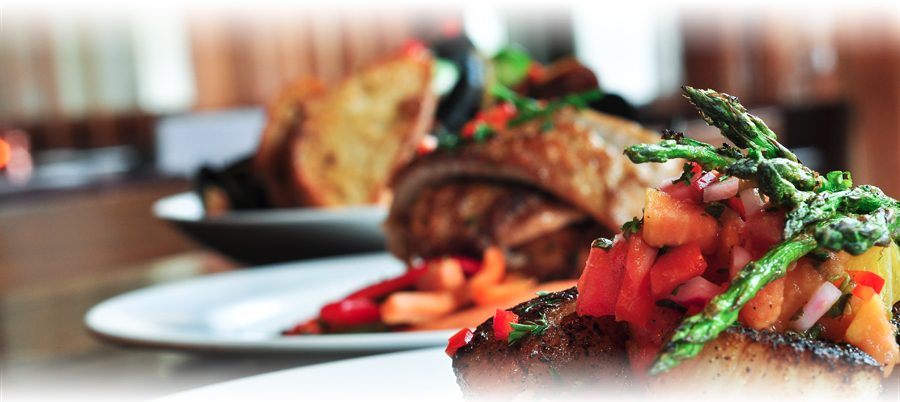 Having lived in Denver for so long I have seen it transform from a cow town into a chic cosmopolitan city. Back in the day, there were only a handful of restaurants that were considered "good". These included some classics like the Cherry Cricket, My Brothers Bar, Wazee Supper Club, The Buckhorn Exchange and Blue Bonnet. But now, even if you ate out every night you would be hard-pressed to keep up with the chefs and restaurants moving to and opening up in Denver. Zagat ranked Denver the #3 hottest food city in 2016. If you live here or have visited you know why. Every time I go out and hit a new place I'm "having the best meal ever". This is an incredible thing as a native. I use to have to travel to New Orleans, New York or Athens to have a euphoric meal experience. You know the type when you slip into a trance because the chef has created a flavor combination that connects your taste buds, mind and soul in such a way that lose yourself for a bit. (Troy Guard does this to me a lot) If you haven't had this happen, moving to Denver has huge perks for you! NPR ran an article back in 2014 (yea, '14, it was good then, it's next level now) about top chefs discovering Denver's food scene. They made great points about Denver's population growth and the fact that chef's work incredibly hard and, ultimately; want to do it in a place they love. It's no surprise that Denver satisfies their needs with its vibe, mountains, and recreation. I'll spare listing all the great Denver restaurants and trim it to my top 10.
Honestly, this just scratches the surface. I have so many more recommendation, so if you need my help, please reach out – nothing is more fun that geek'n out about a night out!
7.) Denver nightlife is incredible!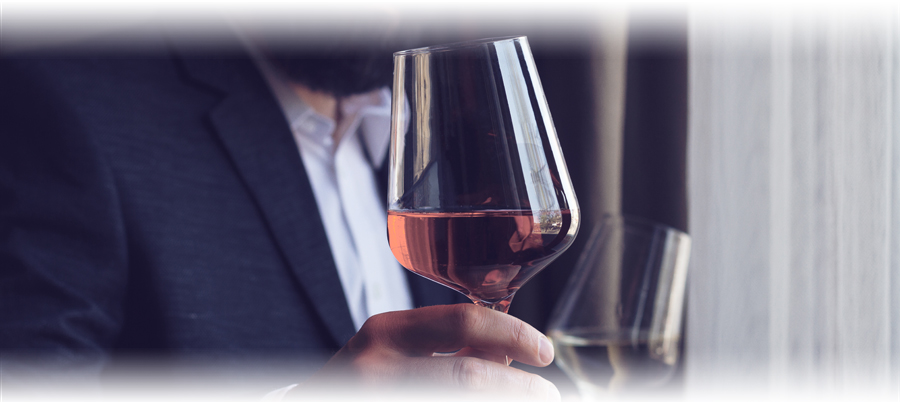 Denver is booming on all fronts with its nightlife included. The craft beer movement has solidified Denver as a major player nationally and the cocktail scene has exploded as well. This combination has established Denver as a well-rounded drinking city. Need proof? Nearly every new bar has a mixology menu. Behind the bar stands a (mostly hipster) bartender that is as passionate about their drinks as they are about their beard and 'stache. Denver bartenders are ambassadors that perfectly balance knowledge with hospitality and approachability. A night out with some curiosity, and an adventurous spirit (pun intended) will undoubtedly lead you to an experience you've never had and will not soon forget.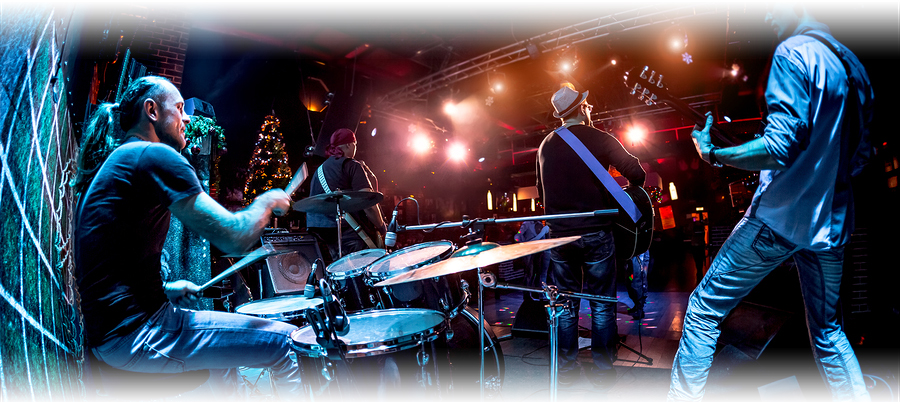 Drinking not your thing? No problem. Denver has so many other incredible experiences just waiting to be had. All three of our major sports venues are located in Downtown Denver. Between Coors Field, The Pepsi Center and Mile High Stadium, you can enjoy a plethora of games, concerts and live shows year-round. Denver's live music scene is robust. Denver has a number of incredible venues to enjoy a show. Some of the more notables include The Ogden Theater, The Bluebird Theater, The Fillmore Auditorium, Fiddler's Green and our world-class Red Rock Amphitheater.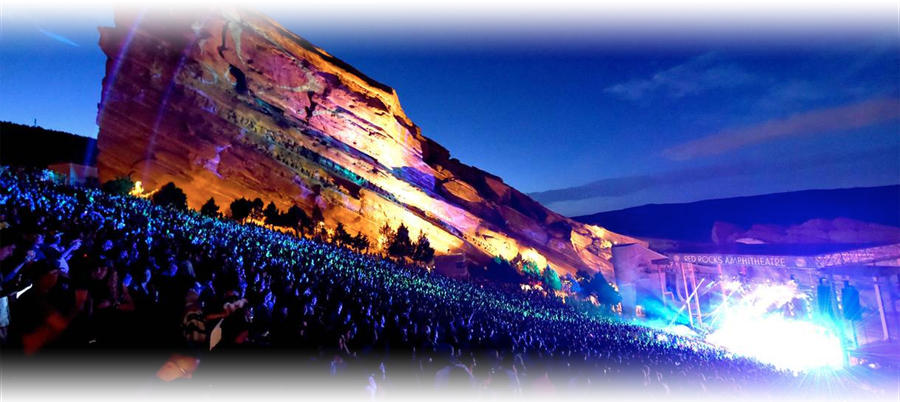 All bias aside, attending a show at Red Rocks is a bucket list item. The Amphitheater was carved out of a red stone cliff band providing an incredible vantage point to see the stage and unparalleled acoustics. Not kidding. If you haven't been there, you read this and then go there, you'll think back and say "that real estate guy knew what he was talk'n about!" Another extraordinary addition to nightlife landscape is the renovated Union Station at the heart of Denver. This city center point is the pulse of the city. Not only is it the hub for all public transport it's a perfect mix of shops, boutiques, cafes, restaurants, bars, and entertainment. Additionally, Denver offers a cornucopia of events and festivals all year. From the Great American Beer Festival (GABF, the most prestigious beer festivals in the country) to the Cherry Creek Arts Festival and from the National Western Stock Show and Rodeo to Denver Underground Music Showcase and City Park Jazz, there is no shortage of fun and interesting things to do and experience in Denver.
8.) Denver's Weather Rules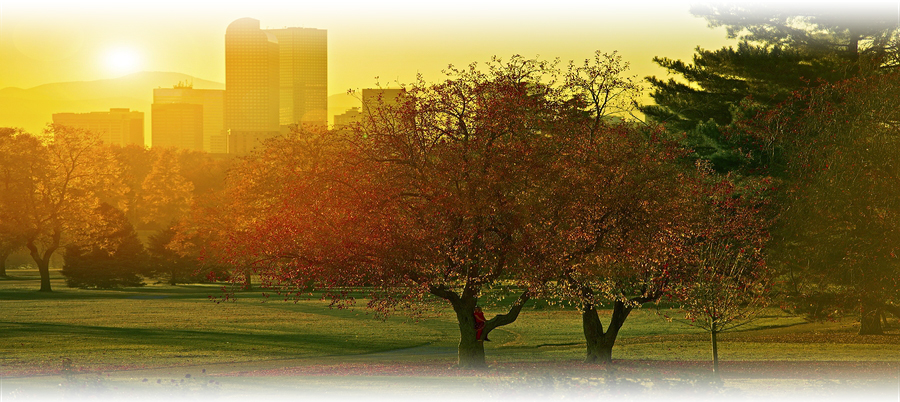 As a native of Colorado, I can honestly say that that weather in Denver is amazing. This is the Mile High City, so at 5,280 feet above sea level, we are close to an alpine community (sort of). My point is that the weather here has variety. The saying goes something like this "If you don't like the weather in Denver, just wait 10 minutes". We have 4 distinct seasons here. The variety of seasons keeps things interesting. Just when you are sick of the heat of the summer in comes the fall. The fall ushers in the changing of the leaves making the city, and especially the mountains, incredibly beautiful. Additionally, you can break out your sweaters, light jackets and start layering up. It's a wonderful wardrobe transition as the cooler temperatures begin to creep in at sundown. Then winter comes, the snow begins to fly and the ski resorts open up, yippee! The secret about the snow in Denver is that it doesn't stay on the ground for long. Typically, the sun comes out right after the storm and all the snow melts off.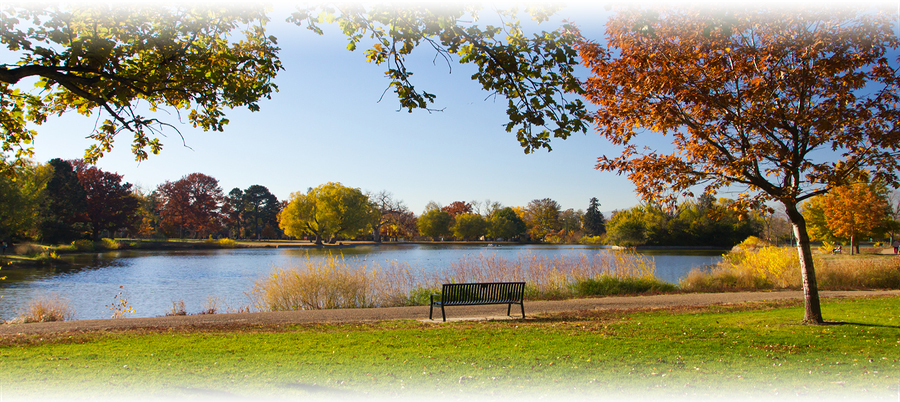 Unlike other cities that endure the black dirty snow that remains all winter, Denver's high altitude intensifies the sun and melts that snow, lickety-split! Then, just when you start longing for warmer days, in comes the Spring. Buds begin to appear on the trees and bushes and warm afternoons signal the patios spaces all over the city to open as its time to start sitting outside again. Put away that winter attire as its time to break out the shorts, summer dresses, and flip-flops – here comes the summer. The best thing (I think) about the weather in Denver aside from the omnipresent sun is the low humidity. It's a dry climate so you may need a little skin lotion each morning but won't feel like you need a second shower after walking a few minutes outside. The low humidity also works wonders in the winter, as it doesn't feel bone-chillingly cold. Granted, there are days you need a hat and gloves (another fashion opportunity), however, it's not mandatory to be outside similar to other cities in the US. If you haven't experienced the weather in Denver you'll likely be pleasantly surprised. For the longest time, the only national attention Denver received was when it was snowing. The media painted a picture of a cold arctic city that is far from the reality of the climate here.
9.) Denver's Crime is Low
If safety is a top concern as you consider a new place to live then Denver should be on your list. Denver is a clean safe place for singles, couples and families alike. The safe nature of the city is one of the main reasons Denver is a top destination for tourists as well as the #2 place to live as reported by U.S. News. For the vast majority of the city, crime is low and rare. Growing up in Denver I have lived all over the city (Congress Park, Uptown, Cheesman Park, Cherry Creek, Jefferson Park, Berkeley, and Central Park). I am a father and husband now and have a new perspective on raising children in Denver. I can say with honesty that Denver feels very safe. There are always parts of the city that have higher instances of crime, however, that's the same with any major city. If you ask most residents in Denver, they will tell you the crime is minimal.
10.) Denver Schools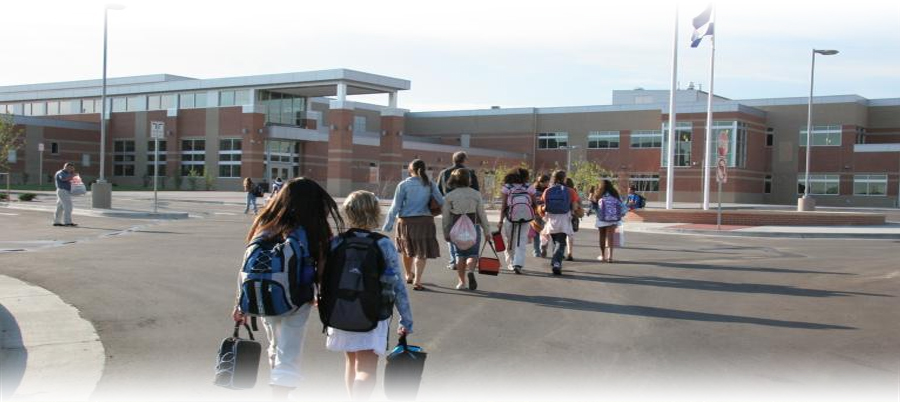 If you are thinking about moving to Denver and have children or are thinking about adding those little bundles of joy to your life, you want to move where the schools are good. Denver is ranked in the top 20 most educated cities in the US as ranked by Wallethub. As with any city, some school districts are stronger than others. Here is a list of the best public schools in Denver and the best private schools in Denver. Denver has open enrollment school districts so you don't have to live in the district to send your children to that school. However, if you are out of district you are responsible for getting your children to and from school. Additionally, the more popular public schools have higher demand so you will often find they are on a lottery system for enrollment. The best thing to do is identify the school(s) you are interested in and get your kids on the enrollment list as soon as possible. Denver also has a number of major universities and colleges. A couple of the well know Universities include The University of Colorado (CU Denver Campus) in downtown Denver and Denver University (DU) in University Hills.
11.) Denver Sports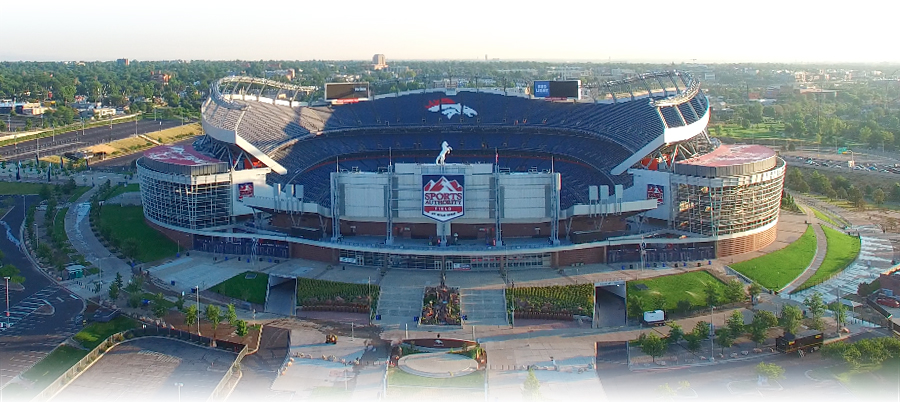 Denver is a huge sports town, both professional and college. Our flagship team is obviously the Denver Broncos. The Broncos have won the super bowl in 1998, 1999 and 2016. If you have a chance to attend a game it is well worth whatever it takes to get in. The Broncos have sold out every home game since the team joined the NFL in 1970. Denver is the only longtime NFL team to have sold out every home game they have played. We love our Broncos! As if the Broncos weren't enough, we also have the Colorado Avalanche NHL team. The Avalanche have won the Stanly Cup twice, once in 1996 and again in 2001. We also have the Colorado Rockies MLB team. The Rockies have yet to win a championship. They did win the National League Pennant in 2007, only to be swept by the Red Socks in the World Series that year. Yes, it sucked! We also have the Colorado Rapids MLS team. The rapids seem to be competitive every year and won the MLS Cup in 2010. We also have the Denver Nuggets. The Nuggets have had a tough time being successful, for whatever reason. They have yet to win a conference title, let alone a championship. The draft of 2003 almost changed things for us as we had a chance for LeBron James, however, Cleveland won the draft lottery that year and he when there. We got Carmello Anthony who was great, he's just not LeBron James. Never the less we love our teams win or lose. It's just so much more fun when they're winning, which feels like a lot! At the college level, we have no shortage of world-class teams. The University of Colorado Buffalos
At the college level, we have no shortage of world-class teams. The University of Colorado Buffalos play at Folsom Field, which is only a short drive up to Boulder. Their stadium is incredible and is a true college football experience.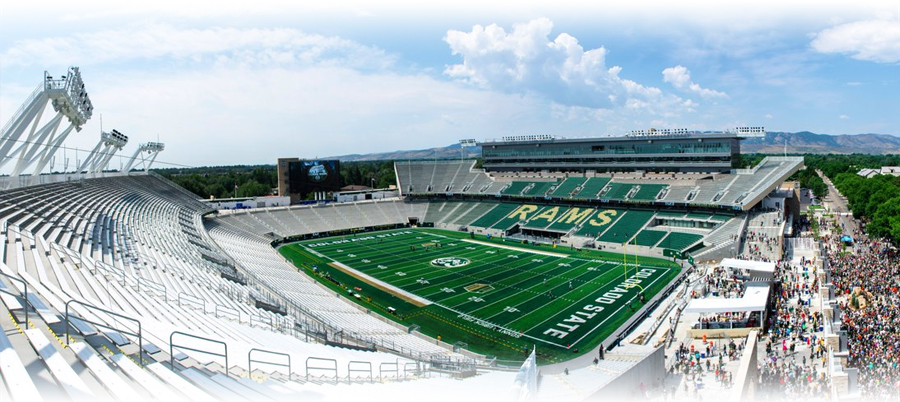 The Colorado State Rams play in Ft. Collins and are getting a brand new on-campus Stadium for the 2017 season. New Belgium (microbrewery) has sponsored the New Belgium Porch at the south end of the stadium. It amounts to a VIP area where you can watch a live game at an outdoor bar. The DU Lacrosse team is a force to be reckoned with seemingly every year as they have made it to the final four in 2011, 2013, 2014, 2015, 2017 and won the championship in 2015. They also have an amazing hockey team that has won the NCAA Championship a whopping eight times - 1958, 1960, 1961, 1968, 1969, 2004, 2005, 2017. We have no shortage of sports in this town and everyone seems to rally around our teams. Even if you're not from Denver you can't help but get converted to a Denver sports fanatic, as the energy created by our supporters is overwhelming!
12.) Denver's Mountains Are So Close and Easy to Get to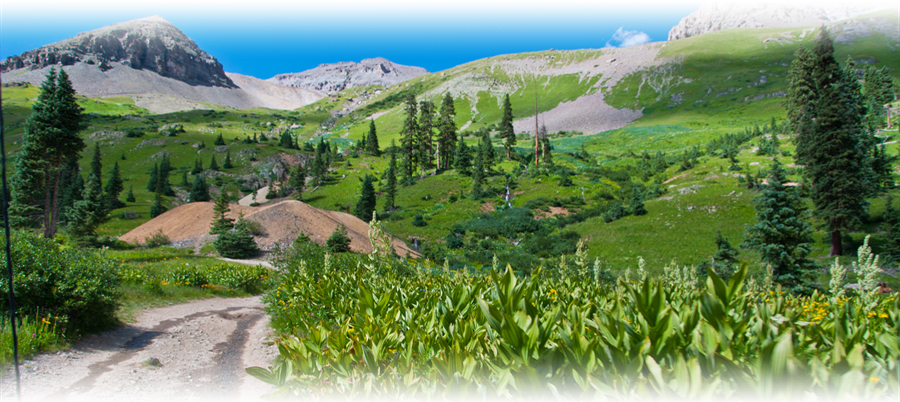 Where do I even begin? I have spoken at length about the mountains and, honestly, can't say enough about them. Like the Ocean, there is just something proudly powerful about them. And…..they are so close! From the city center, you are 25 minutes from being up in them. Now I'm going to let you in on a little secret, if you have read this far then you deserve it, the mountains are better in the summer than winter. Yep, I said it and I mean it. The summers are "take your breath away" stunning. I can't tell you how many times I have ventured up into the high country after a stressful week and as soon as the vistas open up, all the stress melts away. It's honestly therapeutic! The air is so crisp, the colors so vibrant, it makes you want to find the perfect spot to sit and thank whatever force acted upon you, resulting in you living in Denver! There are few things more pleasurable than spending the day in the Colorado high country. You can hike one of Colorado's 53 fourteen thousand foot peaks. (14ers). If you don't want to hike you can drive to the top of Mt. Evans and Pikes Peak.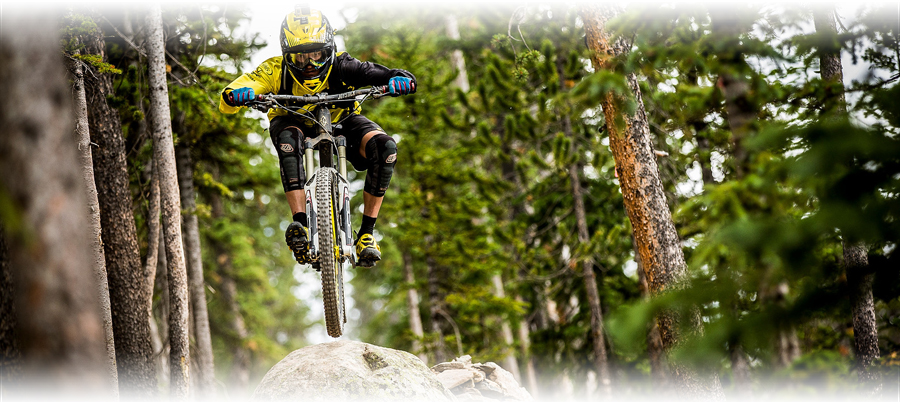 Perhaps you are a mountain biker, Colorado offers some of the countries best mountain bike single track. Trestle Bike Park in Winter Park continues to be the fastest growing bike park in North America, drawing comparisons to Whistler and Mammoth mountain parks, those are big comparisons! Additionally, most all the mountain resorts have a full list of summer events. Some of the bigger events include the Telluride Balloon Festival, the Crested Butte Wildflower Festival, Breck Bike Week, Colorado Freeride Festival in Winter Park and all the Beer Festivals. While at one of the numerous mountain festivals, that happens just about every weekend, you can enjoy river rafting, rock climbing, zip lining, mountaineering, fly fishing, camping, bird watching, canyoning, kayaking, canoeing, jet skiing, sailing, or just about anything else you can think of. Only being 10 or 20 or 30 minutes away from the mountains, depending on where you are starting from, makes all that possible. If you're a nature lover and enjoy spending time in the outdoors (or have the desire to start), you should seriously consider moving to Denver. This city is truly something special.
13.) Denver is Easy to Travel To/From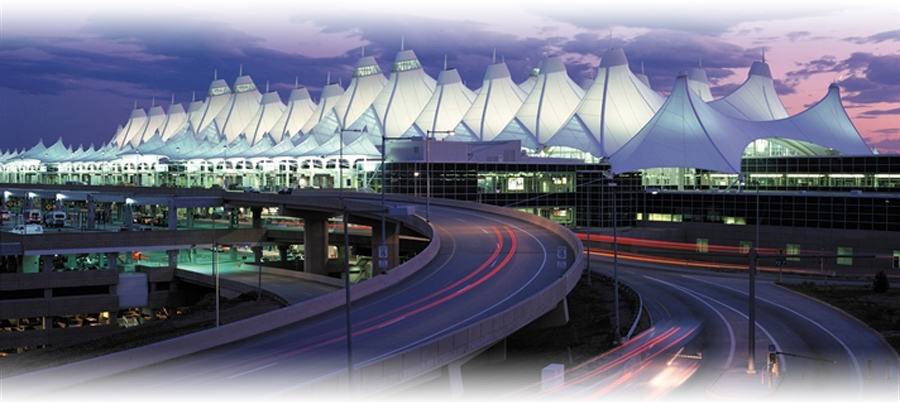 When looking at a new city to move to, it's important to consider how easy (or perhaps hard) it is to travel to or out of. Whether you have family or friends coming to visit, you are a business traveler or you're an avid leisure traveler you want a major airport. Denver International Airport (DIA) is a hub for Frontier and United and a focus airport for Southwest (their fastest growing airport). This translates into a ton of non-stop options domestically and internationally. Not to mention that air travel in and out of Denver is considerably less expensive than if you live in a city that has a satellite airport. When Denver International Airport moved from its previous location at Central Park, the city planners expected growth. DIA is the largest land area airport in the US at over 33,000 acres. The second largest is Dallas at 17,000 acres. This is important because the airport must grow if Denver is to remain a top tourist destination and international hub. DIA currently operates 4 runways and has the capacity to add 8 more as the need arises. Additionally, DIA has the nations longest runway allowing Denver to accommodate fully loaded jumbo jets like the Boeing 747 and Airbus A380 thereby providing unrestricted global access to Denver. These stats may seem unimportant but I beg to differ. Having a strong international airport has proved to be very strategic for Denver and the region.
14.) Denver's Golf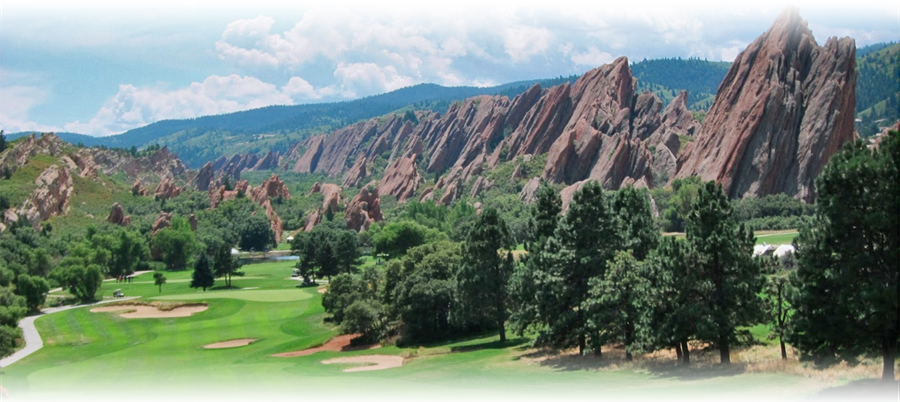 If you are a golfer then moving to Denver is a superb move. Denver ranks 36th on Golf.com's Top 50 Golf Cities in America. Denver has 18 excellent courses in the metro area and hundreds more in the surrounding region. My favorite public course has to be Arrowhead. It's nestled into the red sandstone Flatirons of a state park. The scenery is incredible and you will likely take more shots with your camera than your golf clubs. Another beauty is The Ridge at Castle Pine North. This course starts at the top of a major cliff band and snakes its way into the valley below. Lots of elevated tee shots that allow you to launch the ball into the veritable abyss. A ton of fun, however, the scrub oak can snatch more than a few balls if you're not careful. The last of my top 3 has to be Fossil Trace.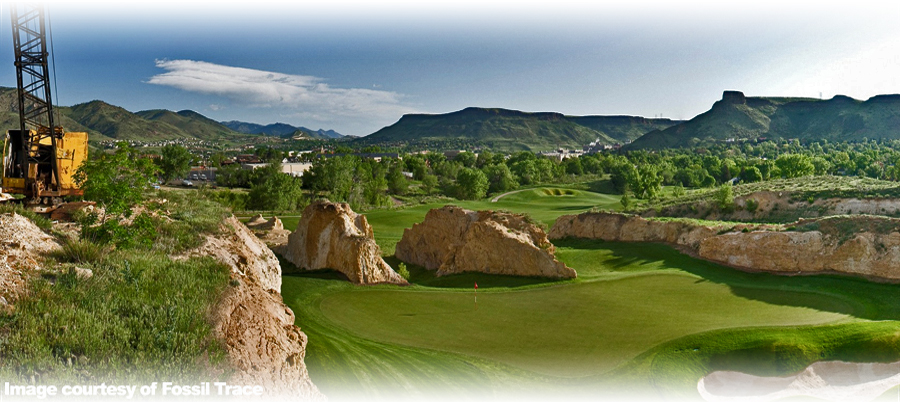 This course is nestled in the foothills and similar to Arrowhead but has lots of exposed rock as added obstacles. The fun thing about rock obstacles is that they can give you some added distance if you hit them right. (yea right…they have never helped me, never once.) The top 3 private courses have to be the Grand Course at Castle Pines. This is the course that the PGA international is played. It is stunning and reminds me, a little bit of Augusta. The second is the Sanctuary in Sedalia. This is the course that is owned by the founder of ReMax and is primarily used for charity golf tournaments. The third would probably be the Cherry Hills Country Club course. It has a pristine setting and is ranked number 73 in the country. Golf is a great reason to relocate to Denver. Heck, I'd be willing to venture out with you on your first round. It will make you feel great about your game….I suck.
Final Thoughts on Moving to Denver
If you are considering a move to Denver you can now see what a special place it is here. You'll never run out of activities to do or try. You'll always have welcoming, friendly people surrounding you. If you are serious about a move of just have questions about the city or neighborhoods please don't hesitate to contact me. I have lived here for 43 years and pride myself in helping people make an educated decision with regard to where to live. I know quite a bit about what is happing now and what's coming. I would be honored to help you make the best decision possible. If you prefer, shoot me a text at (720)935-4399. If you enjoyed this article, please consider sharing these "14 Reasons Why You Should Consider Moving to Denver" with your friends via social media. Share the love, man!
---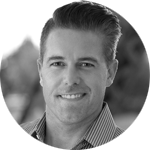 About the Author: The above article on "Yes, Denver is this good" was written and provided by Alex Neir, a market expert in the field of Real Estate in Denver, Colorado. You can contact Alex Neir here, or by phone at 720-935-4399. Alex has helped hundreds of people buy and sell Denver area homes for years. Thinking of selling your home? I have a real excitement for buying and selling Real Estate in the Denver area, I also love marketing and negotiation. I'd love to share my expertise with you so please get in touch! I help people buy and sell real estate in the following area cities & neighborhoods: Washington Park, Central Park, Park Hill, City Park, Uptown, Cheesman Park, Congress Park, Capitol Hill, LoDo, Curtis Park. Five Points, LoHi, RiNo, Highland, Sloan Lake, Jefferson Park, Country Club, Cherry Creek, Bonnie Brae, Corry Merrill, Belcaro, University Hills, Montclair, Mayfair, Hilltop, Lakewood, Englewood, Littleton, Centennial, Cherry Hills, Arvada and of course Denver About the Neir Team