What to Do in Denver with Kids: July 2018
Posted by Alex Neir on Friday, July 13, 2018 at 9:12 AM
By Alex Neir / July 13, 2018
Comment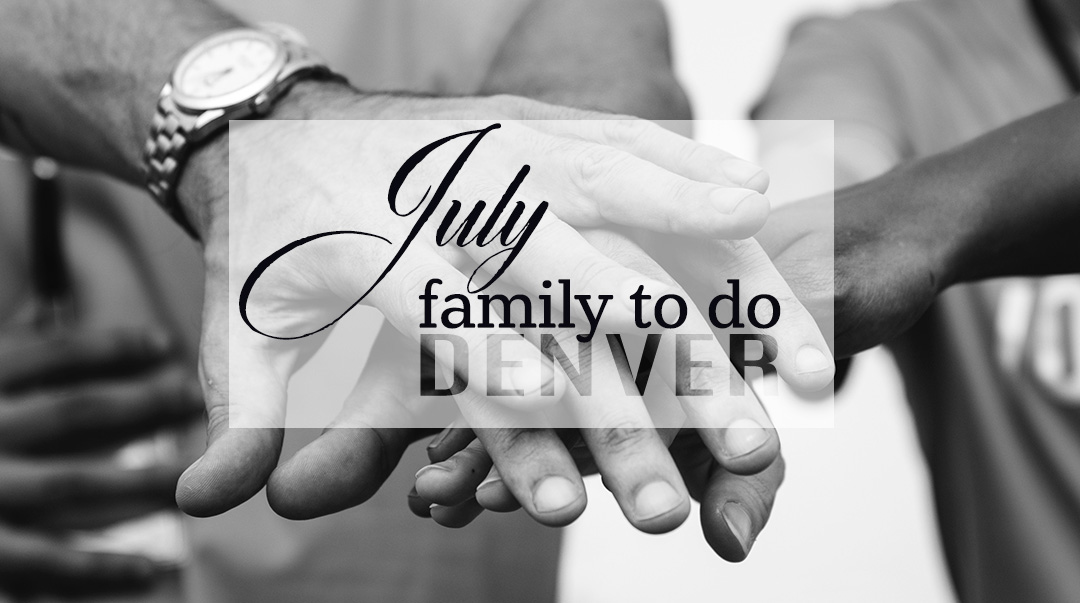 It's mid-summer and the kids are getting bored. Now that the 4th of July fun is over, what next? We've got the answer for what to do with kids in Denver daily for the rest of the month.
What to Do in Denver with Kids July 7-8
JULY 7-8: SCFD Showcase at Denver Botanic Gardens. Special programming and half-priced admission.
What to Do in Denver with Kids the Week of July 9-15
JULY 9: French Storytime at the Children's Museum, 11:30 a.m. Introduce your kids to this beautiful language then stay for all the fun the museum has to offer – inside and out.
JULY 10: July Drum Circle at the Hudson Gardens, 6:15 p.m. Enjoy the Gardens and a drum circle at this family friendly event.
JULY 11: Scoop of Jazz, Little Man Ice Cream, 7 p.m. Kids like ice cream, you like jazz (and we're sure the kids will be tappin' their toes too!)
JULY 12: Eric West's Music for Kids, Ross-University Hills Library. From unusual instruments to puppets, see what Eric will pull out of antique trunk to keep the whole family entertained.
JULY 13: Denver County Fair at National Western, hours vary. Standard fair activities with a twist, it's a "fun and furry, wacky and weird." (through July 15).
JULY 14: Insectival at the Butterfly Pavilion, 9 a.m.-5 p.m. Live entertainments, bounce houses, carnival games and of course incredible animals and beautiful butterflies.
JULY 15: LEGOrado at History Colorado Center, museum hours. See Colorado Lego-style and other fund hands-on museum exhibits – bonus, kids who wear a baseball jersey get in free (exhibit open through summer).
What to Do in Denver with Kids the Week of July 16-22
JULY 16: Kids Bowl FREE at Punch Bowl Social, 11 a.m.-2 p.m. Plus free shoes!
JULY 17: Summer Kids' Flicks, Movie Tavern Aurora, 10 a.m. Tickets are $4 and include a coupon for $4 off food and drink!
JULY 18: Kids Eat Free at Bacon Social House. Purchase a meal and drink for you and your kiddo eats FREE.
JULY 19: FREE Day at Denver Botanic Gardens. Need we say more? Well, actually, yes – be sure to go early!
JULY 20: Joy Park FREE Night at Denver Children's Museum, 4 p.m.-8 p.m. A special night to enjoy the zipping, digging, climbing and splashing at the outdoor Joy Park (museum itself will be closed).
July 21: CASA Back-to-School Family Volunteer Opportunity, 10 a.m.-11:30 a.m. The Kids Compassion Project aims to give kids an age-appropriate opportunity to give back. This event will involve filling backpacks for kids in need. Space is limited.
JULY 22: Shark Weekend at the Denver Aquarium, during regular hours. If your kids (or you, secretly,) love sharks, you gotta be there.
What to Do in Denver with Kids the Week of July 23-29
JULY 23: Mindbender Mansion at Denver Museum of Nature and Science, 9 a.m. to 5 p.m. See the museum's newly opened exhibit where you will look at things with a different perspective, gather clues and find secret passwords.
JULY 24: Bingo and Board Games at Sweet Cooie's, 7 p.m. Bingo is fun for the whole family, especially when playing for ice cream! Board games too.
JULY 25: Literacy Learning Storytime at the Book Bar, 10:30 a.m. Join a kindergarten teacher for pre-reading, pre-writing, and fine motor skills activities, then hear a story. Bonus: half-price drinks in the café.
JULY 26-27: Arapahoe County Fair. Rodeos, carnival rides, games and live entertainment.
JULY 28-Alice in Wonderland Tea Party at Lumber Baron Inn, 3 p.m. Come as a Mad Hatter, Cheshire cat or any of your favorite characters then drink tea and explore the gardens.
JULY 29: All American Street Organ Jamboree at Sam Gary Library (Stapleton), 2 p.m. Featuring a real street organ, this show will combine music, laughter, magic and more.
What to Do in Denver with Kids July 30-31
JULY 30: Silhouette Portraits, Second Star to the Right Bookstore, by appointment. This one might not be as exciting for the kids, but they'll enjoy the bookstore and you'll have a keepsake that captures a precious moment in time in a unique way.
JULY 31: Past the Tangled Present at Denver Art Museum, 10 a.m. The whole family will enjoy the 3D art, while the kiddos will especially like playing in the fabricated cacti garden. (Exhibit open through Sept. 9)