What to Do in Denver: July 2018
Posted by Alex Neir on Thursday, July 12, 2018 at 8:45 AM
By Alex Neir / July 12, 2018
Comment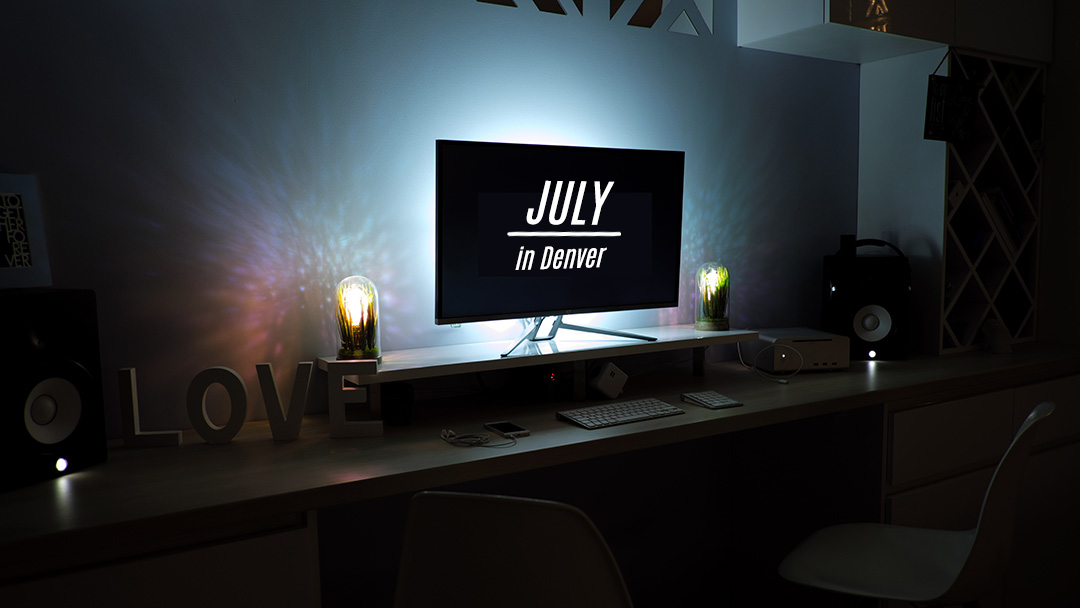 Sometimes when it is date night, thinking of something different to do can be harder than finding a babysitter! Now that 4th of July festivities are done, you are due for a little adult time. We've got you covered on what to do in Denver through the end of the month.
WHAT TO DO IN DENVER JULY 5-8
JULY 5: Thursday Night Bazaar at Stanley Marketplace 5 p.m.-9:30 p.m. Wine, cider, beer and spirits sampling, plus live music – all while shopping (yes, please).
JULY 6: RiNo First Friday, 6-9 p.m. RiNo businesses will open to feature specials, live music and art.
JULY 7: Penny Admission at Museum of Contemporary Art, 10 a.m. See this great museum at a great price.
JULY 8: JazzerCider Colorado Cider Company, 11:30 a.m. Jazzercize meets cider in this first ever event.
WHAT TO DO IN DENVER JULY 9-15
JULY 9: Film on the Rocks (Red Rocks), 7 p.m. The Big Lebowski 20th anniversary!
JULY 10: Rockies Game at Coors Field, 6:40 p.m. Take me out to the ball game (vs. Arizona Diamondbacks).
JULY 11: Railbenders at Elway's Cherry Creek, 7 p.m. FREE outdoor concert.
JULY 12: Water Hole – Mating, Dating and Copulating at the Denver Zoo, 5:30 p.m. Yep, this is about how animals "get wild" plus, light appetizers and drinks for you.
JULY 13-15: Slow Food Nations Festival at Larimer Square, 10 a.m.-5 p.m. Workshops, demos, talks and of course tastes!
WHAT TO DO IN DENVER JULY 16-22
JULY 16: All Day Happy Hour at D Bar Restaurant, 5 p.m. Great specials on drinks and confections.
JULY 17: Sip & Sushi at Dry Dock Brewing Company, 6:30 p.m. Learn how to roll sushi at home.
JULY 18: Free Poker Tournament, Highland Tavern, 7 p.m. Play for bragging rights, swag and prizes.
JULY 19: 5280 Top of the Town at Union Station, 6-9 p.m. The best of Denver hosted by one great magazine at one great venue – this one is going to be big… it is celebrating 25 years of Top of the Town!
JULY 20: Twilight Paddle at Cherry Creek State Park, 7 p.m. Paddle, kayak or canoe to the Pub at Pelican Bay for specials, beach games and music.
JULY 21: Central Park Beer Festival at Founder's Green in Central Park, 4-8 p.m. Beer, beer and more beer.
JULY 22: Fun Run at Woods Boss Brewery, 11 a.m. Run, then drink craft beer and listen to live, local music.
WHAT TO DO IN DENVER JULY 23-29
JULY 23: Bachelorette Watching Parties, ViewHouse Ballpark, 7 p.m. You know you have to know who gets the rose!
JULY 24: Swingin' at the Stanley at Stanley Marketplace, 6 p.m. Live music, free swing dance and and lots of fun on the patio.
JULY 25: Golden Triangle Public Art Tour at McNichols Building, 5:30 p.m. Learn more about the contemporary outdoor art in the Golden Triangle.
JULY 26: Rose Tasting at Dazzle, 6:30 p.m. Sample five rose wines from around the world and good eats too.
JULY 27: Final Friday at RiNo, 7 p.m. It's RiNo's longest running block party. Alleys, street corners and alleys will all be abuzz.
JULY 28: 3rd Annual Beer and Ice Cream Social at Denver Beer Co., 11 a.m. Try five new summer craft beers and scoop up some Little Man ice cream.
JULY 29: Cider and Cookie Pairing at Haykin Family Cider, 2 p.m. Sounds like a great combo to us.
WHAT TO DO IN DENVER JULY 30-31
JULY 30: Power Vinyasa Yoga at Civic Center Park, 6 p.m. Namaste.
JULY 31: Golden Bike Cruise, 6 p.m. Kicks off at the Golden Library with a keg tapping, followed by the 7 p.m. ride and concluding with food, music and more beer!