True Food Kitchen Comes to Cherry Creek
Posted by Alex Neir on Tuesday, January 15, 2013 at 11:53 AM
By Alex Neir / January 15, 2013
Comment
True Food Kitchen Comes to Cherry Creek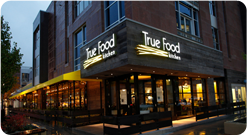 The Fox Restaurant Concepts eatery, True Food Kitchen, has finally branched out from its Arizona and California monopoly and settled down in Denver's culinary haven, Cherry Creek. Motivated by holistic health specialist, Dr. Andrew Weil, True Food Kitchen's menu is all about combining modern culinary trends with healthy living, and not sacrificing great flavor in the process. With this addition to the food world, eating out in Denver just got a whole lot more delicious.
Fox Restaurant Concepts (FRC) began as a single restaurant in Tucson in 1998. It has since grown into 12 different restaurant names across the United States, including the already Cherry Creek established, North Modern Italian Cuisine. As one of Denver's hot new spots, True Food Kitchen is riding the trend of healthy eating that tastes fabulous and leaves its customers feeling even better.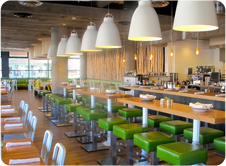 Inspired by cuisines throughout the world, True Food Kitchen's menu offers a wide variety of delicious eats, from their popular Tuscan kale salad to the Asian red chili shrimp, the street tacos to the butternut squash pizza. The lunch and dinner menus vary only slightly, but both offer a vast drink menu with local beers, both foreign and domestic wines, specialty cocktails, and the traditional Japanese sake. And for those of you who prefer eating out in Denver with the kids, True Food Kitchen offers an interesting, yet child-friendly, menu of organic and wholesome foods.
Restaurants can spring up overnight in the city; all claiming to be "Denver's hot new spot". But True Food Kitchen deserves true consideration. Its premise and goals focus on the customer, teaching people that eating healthy foods and eating delicious foods can be one in the same. Who would have thought that organic chocolate pudding or lemon-ginger frozen yogurt could be good for you? It also proves that eating out in Denver can be a break from the ordinary, without forfeiting your diet or New Year's resolutions.
True Food Kitchen is located in the Shops at North Creek, at the corner of 2nd and Detroit in North Cherry Creek. It is open seven days a week and includes a special brunch menu on the weekends.