Top 5 Parks in Denver
Posted by Alex Neir on Thursday, August 25, 2016 at 10:00 AM
By Alex Neir / August 25, 2016
Comment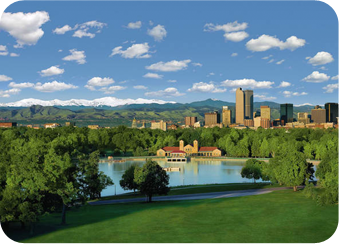 Denver is home to an astonishing 250 parks that cover almost 6,000 acres of land. It's an outdoor lovers' paradise with nearly limitless locations for summer grill outs, jogging, playing catch, and people watching. Choosing the top 5 parks in Denver is no easy task, but here we go.
City Park
City Park is almost universally considered the region's premier urban park because it has so much to offer. Situated between the Denver Museum of Nature & Science (including the IMAX theater) and the Denver Zoo, City Park gives you easy access to a wide range of activities. Within the park grounds, you'll find historical monuments, two lakes, picnic sites, playgrounds tennis courts, soccer and football fields, baseball diamonds, and more.
Washington Park
This 155-acre gem features two lakes and two impressive flower gardens. One of the gardens was designed as a replica of the famous gardens at George Washington's estate at Mount Vernon. Excellent dining and shopping options are nearby on Old South Gaylord Street after you're done strolling through the lush park grounds.
Cheesman Park
Cheesman Park is a popular refuge for Denverites, especially for inhabitants of the densely populated neighborhood of Capitol Hill that borders the park. For many, it's a favorite spot to fly kites, throw frisbees, or to go jogging. The Walter Scott Cheesman Pavilion hosts weddings, concerts, and many other special events throughout the year.
Civic Center Park
Situated in the heart of the city, Civic Center Park is usually bustling with activity. It features beautiful landscape, copious communal spaces, and quick access to some of Denver's greatest attractions. The Colorado State Capitol Building, the 16th Street Mall, and the Denver Art Museum are all nearby.
Ruby Hill Park
Ruby Hill Park is Denver's winter sledding mecca. This Hilltop park has just added a playground and a mountain bike track to be more summer-friendly, but it has long been one of the best parks in Denver for cold-weather outdoor fun. Kids and adults have been sledding down the big hill and making memories for generations.
With 250 separate locations to choose from, we can't highlight all the amazing parks in Denver. Did we miss some of your favorites?
Leave a comment and let us know about your top 5 parks in Denver!