Top 10 Breweries in Denver
Posted by Alex Neir on Wednesday, December 21, 2016 at 1:01 PM
By Alex Neir / December 21, 2016
Comment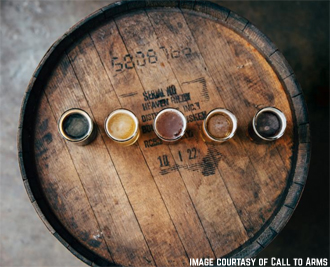 Denver is undeniably one of the beer capitals of the world. The city already boasts one of the highest rates of microbreweries and breweries per capita, and it seems like dozens of excellent new watering holes are opening every year.
Whether it's ales, lagers, pilsners, porters, or IPAs you're after, the Mile High City is sure to have multiple breweries or tap houses pouring your craft beer of choice.
Have you worked up a thirst yet? Here are our rankings for the top 10 breweries in Denver:
Call to Arms Brewing Company
My absolute favorite in the city. Denver's beer community had high expectations for Call to Arms Brewing Company, and so far those expectations have been exceeded. Consistently high-quality craft beer options across a broad range of styles. The Amigos Borrachos is my favorite.
Little Machine Beer
This Jefferson Park brewery instantly became a favorite watering hole for beer enthusiasts across the city when it opened. It doesn't hurt that it's located right next to Sports Authority Field, but Little Machine Beer offers some amazing craft brews (the winter lager is a popular choice) that keep people coming back even when it's not a Broncos game day.
Ratio
RiNo is a beer destination neighborhood, and Ratio, located at 2920 Larimer St., is one of the breweries that have helped cement that reputation. Fun events, relaxed atmosphere, and absolutely killer beer options combine to make it easily one of the top breweries in the city. Local hop experts will tell you that Ratio's top of the line, twenty barrel brewing system gives it a leg up on the competition.
Declaration Brewing Company
If you're looking for variety, Declaration Brewing Company is one of the newer and better destinations to consider. They have far more beers on tap than your typical new brewery. The staff is knowledgeable and friendly, and great at pairing beer geeks with their new favorite suds. People often leave raving about the Bus Stout or the Electric Silk Oatmeal IPA.
Spangalang Brewery
Another new brew house in Denver, Spangalang Brewery has already established itself as a top destination for local lovers of beer. The team behind Spangalang is committed to putting out the highest quality, freshest, and most innovative beer while still honoring the traditions of Five Points. Many of their top brews could best be described as "artful."
Banded Oak Brewing
In the Baker neighborhood, the small but excellent Banded Oak Brewing company puts out a growing selection of top-notch beers, including the Scotch IPA and the Vienna Lager. It has a great patio too!
Cerebral Brewing
East Colfax may be known more for dive bars, but it's also home to Cerebral Brewing, a smart new brewery with plenty of televisions for watching sports and plenty of tasty craft brews for beer lovers. The English Brown Ale, Oatmeal Stout, and American Pale Ale are all beloved.
Breckenridge Brewery
It's been around since the 1990s and it now has five locations and ships product out to more than 30 states, but Breckenridge Brewery has retained its integrity through the years. It's still one of Denver's most interesting producers of beer. Stop by and try the Nitro Vanilla Porter.
Crooked Stave
This often outlandish brewery fits right in with the quirky, hipster stereotype that many associates with Denver's beer enthusiasts. The Crooked Stave taproom and brewery adjoin with an art gallery, coffee roaster, and bakery. It's tart-red Wild Brett Rouge is a favorite.
Westfaxbrewing
A great taproom led by one of the beer geniuses formerly behind Tommyknocker Brewery, another top beer destination in Denver. Westfaxbrewing is your best bet if you're hankering for top-notch beer to go with guilty-pleasure Mexican food -- Casa Bonita is right next door!
With Denver's beer scene changing weekly it's hard to imagine this ranking staying true for long. Let me know if you have an experience at a new brewery that requires my attention by leaving a comment. I love the research!!!