The Top Apartment Buildings in Denver
Posted by Alex Neir on Monday, December 19, 2016 at 12:08 PM
By Alex Neir / December 19, 2016
Comment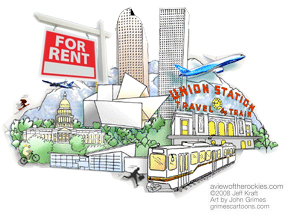 Finding the right apartment rental in Denver seems to get harder and harder with each passing month.
As metro area home prices have skyrocketed over the past few years, many potential buyers are content to stay out of the market, pick a rental, and wait for things to settle down. With no end in sight, the demand for rentals is becoming a problem city-wide.
Getting a spot in one of Denver's top apartment buildings has probably never been tougher, but that makes it all the more important that you go into your search prepared. To get started, you need a clear set of wants and needs and a short list of rental companies to contact.


You'll have to decide your top priorities for yourself, but we can provide you with a list of the top local apartment complexes based on some common priorities for renters in Denver.
Here's our list of the top apartment buildings in Denver, according to best view, best amenities, and best deals.
Denver Apartments with the Best View
Denver offers a mixture of breathtaking natural surrounding landscape and exciting man-made urban cityscape. Some of the city's best apartments offer stunning views of one or both of these elements.
Which apartment complex has the best overall view is a pretty subjective thing, but there's little doubt that Platform At Union Station should at least be near the top of anyone's list. Check out the exterior views of this stunning high-rise in Denver's LoDo neighborhood, right next to one of the city's best landmarks -- Union Station.
Denver Apartments with the Best Amenities
Even though demand for rentals is sky high right now, apartment buildings -- especially those catering to the luxury market -- are offering more and more amenities to attract renters. They're stacking up the perks to get attention in a crowded market, and you can take advantage of it.
From private fitness studios to electric car charging stations, to rooftop dog walks, there are some complexes in Denver that are redefining the apartment living.
Which one tops the list? One of the leading contenders would have to be Veranda Highpointe, located in South Denver, on the edge of the University Hills neighborhood.
Shared amenities include a rooftop lounge, yoga studio (with free yoga classes for residents), a basketball court, a decked-out party and gaming room, a dedicated dog park, business center, and much more. Inside the private apartments, amenities include granite countertops, plank-style flooring, glass tile accents, custom cabinetry, and soaking tubs. Check out the full list here.
Another contender is One City Block apartments in the North Capitol Hill neighborhood of downtown Denver. You can find a full list of the impressive amenities at this property right here.
Denver Apartment Building with the Best Deals
For many of us, it's not the ideal amenities or the perfect view that sets a rental property apart -- it's the price tag. With prices so high, you probably have no choice but to make rent budget a key factor in your apartment shopping checklist.
If you want even better cost per square foot value, you'll probably have to go outside the downtown area. In the southeast part of town, Dayton Crossing Apartments, One Dartmouth Place Apartments, and Pembroke on the Green Apartments are three complexes with units starting in the $750 per month range and move-in specials available.
Tell Us What You Think
Do you live in one of the top apartment buildings in Denver? Leave a comment and tell us why you think your building deserves recognition.