Hot new restaurant in RiNo (River North)
Posted by Alex Neir on Tuesday, August 27, 2013 at 3:25 PM
By Alex Neir / August 27, 2013
Comment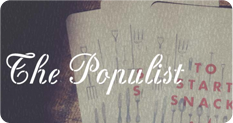 It seems that, almost daily, trendy new bars and restaurants are springing up in Denver. With the rapid growth of LoHi, Jefferson Park, and Five Points, Denver is on the fast track towards becoming one of the nation's trendiest cities. Helping to propel this elevated status is the addition of dive bars that greatly exceed expectations. One example of a great little hot spot is the Populist in Denver, recently opened in the up-and-coming River North area, or RiNo.
The Populist, located at 32nd and Larimer, is the eatery creation of Noah Price and Jonathan Power. They already have experience with experimental eateries in this area, as their brainchild, Crema Coffee House, is located just a few blocks west. The Populist in Denver has an irresistibly interesting menu, consisting of small, shared plates that feature modern, American cuisine. Dishes include apple and parsnip soup with roasted jalapeno caviar, beer-marinated olives and crackers, braised beef cheeks with porcini potato smashers, and seared frisee with a tamari reduction. For a tiny bar located in an up-and-coming Denver neighborhood, the menu is far from anticipated, yet delightfully surprising.
What inspired this intriguing menu? Jonathan Powers claims that "the idea is to go in and try a bunch of stuff without breaking the bank," a concept that Denver's most loyal foodies are looking for. The atmosphere is centered around larger, communal tables and a smaller, more intimate environment. And the Populist has definitely made strides to fill the requirements as one of Denver's hot new spots. Its trendy style, almost hipster environment, and appealing food is bringing people in from across the city.
When it comes to going out in Denver, the decision has become rather difficult. Restaurants like the Populist in Denver, Uncle, Southern Hospitality, and Blue Sushi are giving institutions that have been around for years a run for their money. With the younger clientele to appeal to, the new hot spots in Denver are thinking outside the box with everything from the menu to the interior décor and even the locations. But what is the easiest way to decide which one is your favorite? Try them all.