The Best High Schools in Denver
Posted by Alex Neir on Friday, January 20, 2017 at 9:00 AM
By Alex Neir / January 20, 2017
Comment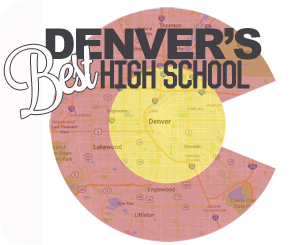 In the 2016 U.S. News Best High Schools report, there were well over 100 Colorado schools that received recognition. There were 14 that earned gold medal honors and another 35 that earned a silver.
Let's take a closer look at a handful of Denver-area high schools that ranked the highest.
Best High Schools in Denver
KIPP Denver Collegiate High School

KIPP ranks number two in Colorado and number 164 in the nation for high schools. Some of the reasons cited for its high ranking include the Advanced Placement exam and course options and the 95 percent AP participation rate. KIPP students achieved a 73.5 on the college-readiness index.

DSST: Central Park High School

Like KIPP, the DSST student body has very high participation rate in AP programs (79 percent) and wide access to Advanced Placement exams and coursework. As a whole, the school scored a 70.2 on the college-readiness index.

Denver School of the Arts

DSA is the eighth highest rated high school in Colorado and number three in Denver. The relatively low 22:1 student to teacher ratio, the very high english proficiency scores of the student body (94 percent), and the high AP participation rate (84 percent) are all reasons why the Denver School of the Arts cracked the top ten in Colorado and achieved a national ranking of 298.
Learn About Other Top Schools in Denver
To get more information on top high schools, middle schools, elementary schools, and private schools in neighborhoods all over Denver, check out the Neir Team's section on Denver's best schools.
If you'd like to talk with a real estate expert about finding a home in the best school district for your kids, call the Neir Team today!
Call 720.280.3004 or 720.935.4399