Should you buy a house now in Denver or wait?
Posted by Alex Neir on Tuesday, October 25, 2022 at 4:45 PM
By Alex Neir / October 25, 2022
Comment
The real estate market in the Denver area has been booming, and with mortgage rates, at an all-time high, it's important to know what this means for you.
Many expect more increases from Federal Reserve Chairman Powell on the base rate over holidays. The prevailing opinion of most experts is that the Fed will increase rates by another .75%. As I am sure we all know, this is predicated upon the inflation rate and whether on not it has started to decline.
Of course, most people say this isn't great but it does provide a helpful backdrop as we start this discussion of whether you should buy now or wait till 2023.
Let's start by asking who is buying right now. Lots of first-time homebuyers. This is a surprise to many. There have been a lot of discussions about people being priced out of the market with how crazy the market has been. However, in the first half of 2022, 45% of homebuyers were first-time homebuyers. This percentage is back to where it was over the last five years in Denver. There was a little drop last year in 2021, but we are right back to seeing lots of first-time homebuyers in the market. Most of these buyers are millennials entering their prime home-buying age.
Another thing to note is that 58% of people who borrowed money for their homes did not invest 20% in a downpayment. After 2008, when the economy collapsed, it became harder to borrow money. Most people think that you need 20% of the cost of the house before you can buy it. This is a good idea if you have the money, but it is not required. So it's good to see that many people were able to buy a house without having a 20% down payment.

Next, let's look at mortgage rates as they compare to inflation. In the graph above, the red line is inflation. The blue line is the average 30-year mortgage interest rate. There is a distinct pattern between the two. What this means is that inflation shows us what will happen with mortgage rates in the future. Lenders know this and they watch inflation. When it goes up, the mortgage rates will follow. We see inflation way up and therefore mortgage rates are way up as well. This pattern also work in reverse. As we refer to this graph from a historical perspective, we can see that when inflation comes down, so do mortgage rates.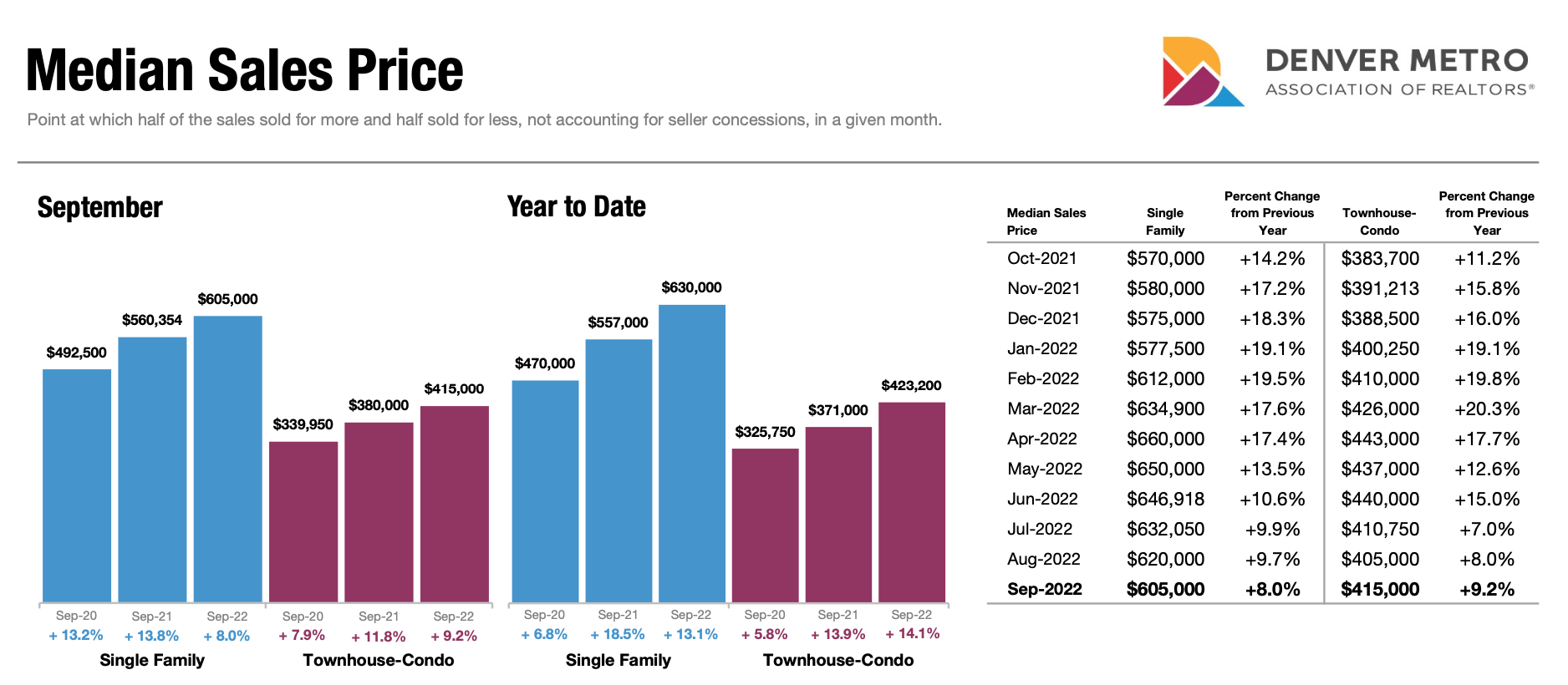 So, Where are prices today relative to the peak? The median price for a detached single-family (DSF) home in Denver in September of 2022 was $605,000 and for a townhome/condo (ASF) it was $415,000.
If we look at the peak of the market, which was in April 2022. We see the median price was $660,000 and $443,000. So, current prices for DSF are off the peak by 8.3% and ASF are off the peak by 6.32%. Historically speaking, a drop of 2.5% to 4% in the four months from the peak is common as we account for seasonality in the Denver market. However, 8.3% is double what we typically see and that gap is likely to widen as we approach the holidays.
Next, we need to look at appreciation/depreciation and acceleration/deceleration. As we reference the graph above we see the appreciation rate for September for single-family homes was +8.0% (price change from the previous year) and townhouse/condo at +9.2%. So, prices are still appreciating. This is important to understand. As we read articles and hear the media talk about the housing market, we hear prices are falling and that the market is collapsing. Be mindful and look at the data. A better way to describe the current market is that it is decelerating.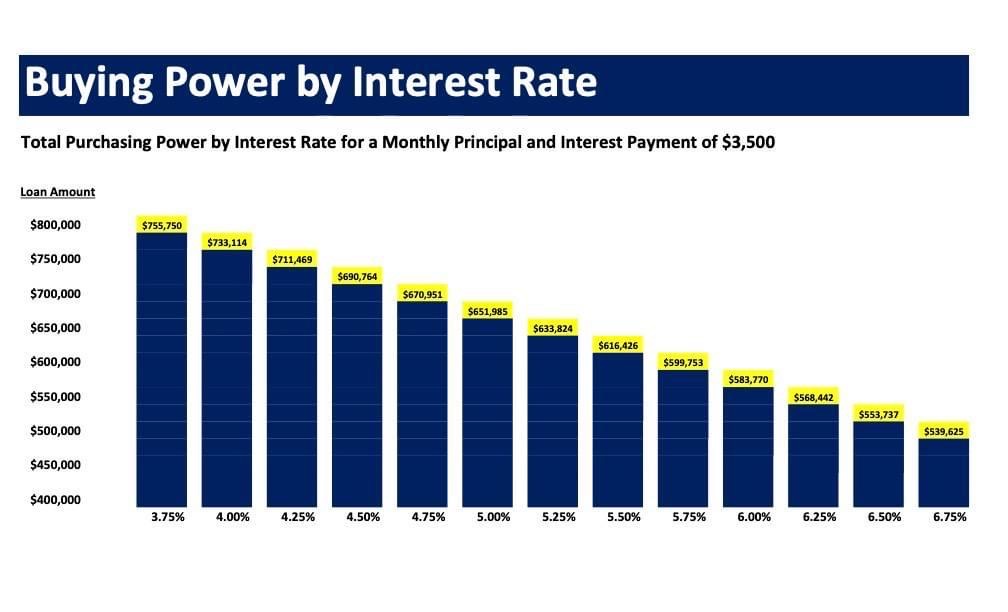 As you're deciding whether to buy a house in Denver now, in the next few months or deeper into 2023, it is important to understand your purchase power as it relates to mortgage interest rates.
Keep in mind that for every 1% change in mortgage rates, your buying power changes by 10%. So if interest rates go down by 1%, you'll be able to afford 10% more house. This is an important concept because mortgage rates have gone up from 3% to 7% this year, so buyers' purchasing power has decreased by 40%. This has removed a substantial amount of buyers from the marketplace and has made it considerably less competitive to purchase a home right now.
So, let's say you can afford $500,000 for a home purchase and you're hesitant about whether now is the time to buy. You've talked to a lender and decided you can afford a 7% mortgage rate. You've got a strategy with your real estate broker in which could ask the seller for an interest rate buy down or if they don't agree you could refinance when rates go down. So buying right now doesn't really scare you, but friends, family, and everyone around you are saying, "Don't do it."
The question - If rates go up by another 1%, do you think prices will come down 10% to even out the cost?
In summary, should you buy a home in Denver now or wait?
Interest rates have doubled since the beginning of the year and most experts see them continuing to increase into early 2023. It is important to follow the inflation rate, as that is a good indicator of where interest rates will go. Buyer activity remains healthy as we are still reporting strong appreciation figures from a year-over-year standpoint. However, we are seeing price deceleration in the Denver market as prices are falling from the peak in April. As interest rates continue to increase, buying power continues to decrease.
My advice?
1) Determine what mortgage amount you can qualify for then talk to a mortgage broker and get pre-approved. There's no harm in doing this step in case that "must-have" home hits the market and you decide to make an offer.
2) Align yourself with a real estate expert who can provide advice on market conditions, when to strike while the iron is hot, and can help you negotiate the best deal. Savvy Realtors will know how to negotiate not only price but concessions for things like 3-2-1 buydowns that will significantly improve your monthly mortgage payment in these high-interest rate times.
3) Decide if you think the deceleration of prices will offset the increase in interest rates or visa-versa.
Right now might be a great time to buy because buyer demand has waned due to increasing interest rates. This means you won't have as much competition in the marketplace and you may be able to negotiate off the Seller's asking price and negotiate 3-2-1 buy-downs and advantageous terms.
No one has a crystal ball. Trust your gut, enlist the help of a real estate expert & mortgage broker and do your research! Good luck and let us know if we can help.