Should Home Sellers Consider Basement Finishing?
Posted by Stacy Neir on Monday, May 4, 2015 at 8:24 AM
By Stacy Neir / May 4, 2015
1 Comment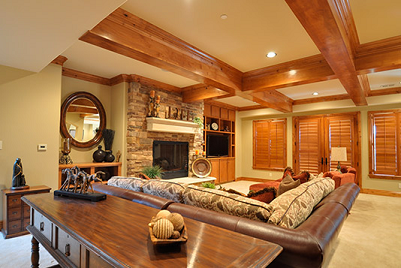 Homeowners often look at their unfinished basements with rose colored glasses, imagining how it is only one remodeling project away from becoming a home bar, a high-tech media room, a man cave, or more.
Dreaming about the untapped potential of a basement is all well and good… until it comes time to sell your home. At this point, it comes down to hard facts and figures. It's time to figure out whether or not it would be a sensible investment to remodel your basement shortly before selling.
Competing with Other Homes on the Market
If the other homes in your price range or general location commonly have unfinished basements, a remodeling project would give you a huge advantage over them. Your new space would be a major selling point that you could highlight in listings and show off to buyers who come to your property in person.
If a lot of competing properties already have finished basements, that might be an even better reason for you to move forward with a remodel. You don't want to be working at a disadvantage – especially if you have a tight time frame in which to sell.
Crunching the Numbers
The cost of basement finishing can run from $10,000 all the way up to as much as $60,000 or more, depending on the size and complexity of the project. In congested real estate markets where square footage is always at a premium, a finished basement is a highly valuable commodity that could easily provide positive return on investment in the form of more interested buyers and a greater sale price.
Choosing professional basement finishing in Denver will ensure you get the best possible results and open up a range of possibilities that wouldn't be possible for a DIY project.
In a seller's market where square footage is less of a concern, it makes less sense to invest in an update or remodel right before selling. You may not be able to recoup your investment.
Seeking Assistance
Professional guidance will help you make the right decision to maximize value when you're selling a home in Denver CO.
Contact the Neir Team for answers on whether or not to remodel before listing and other key questions that face home sellers in Denver.