Seller's or Buyer's market? I think we're moving to the seller's side
Posted by Alex Neir on Wednesday, December 12, 2012 at 1:30 PM
By Alex Neir / December 12, 2012
Comment
Sellers market or Buyers market? I think we're moving to the seller's side.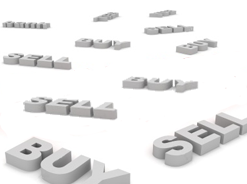 With the benefit of hindsight, it is now very apparent that the Denver real estate market, along with the rest of the country, underwent a price correction starting in 2006. The price of real estate began to decline when the supply of home buyers dropped sharply as a result of the subprime mortgage crisis. As we all know, the law of supply and demand has a large influence on price. When the demand fell, supply stayed the same exerting downward pressure on home prices.
The ensuing years saw high levels of supply coupled with massive regulation in the lending industry further diminishing demand establishing a very stagnant housing market through 2011. During this period the market was undoubtedly a buyers' market. As a real estate broker, we referred to this period as the era of the "low ball offer".
It wasn't until the second half of 2011 that the market began to shift. The graph below shows residential home listings and sales for 2011 and 2012. What jumps out is the gap between listings and sales in December of 2011. The number of home listings started falling in June of 2011 and continued for the remainder of the year. This trend diminished the supply surplus and corrected the imbalance in the market. This supply correction had a dramatic effect on real estate in Denver for 2012.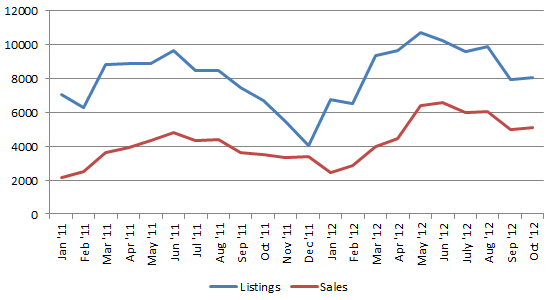 Coming into 2012 the inventory of homes has been reduced, the lending industry has loosened the reins on the flow of money and mortgage rates are at historic lows. This has created an increase in the demand for home purchases and has begun a shift in the market to the seller's side. As a real estate broker, 2012 has been referred to as the era of "multiple offers". Buyers seem to be sitting on the fence waiting for new homes to be listed as they can't find what they are looking for.
Again looking at the law of supply and demand, a reduction of supply with increased demand creates upward pressure on price and we are likely to see equity continue to return to the market heading into 2013.