RTD's East Rail Line to DIA Showing Signs of Progress
Posted by Alex Neir on Friday, April 19, 2013 at 2:14 PM
By Alex Neir / April 19, 2013
Comment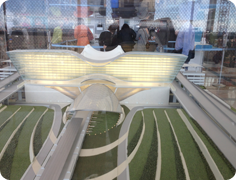 When Union Station's monumental renovation and revitalization is complete in the coming years, the citizens of Denver will have a lot to look forward to. The whole area will be alive with activity, new ventures, and limitless possibilities for the city. But what many people are looking forward to more than the revamping of this Denver icon is the installation of the DIA Light Rail. This mega-transportation project will not only ease traveling headaches along I-70, but it will also make the entire trek a breeze.
The Denver East Rail Line is currently under construction and will have stations along the route from DIA to Union Station. The advantages of this DIA Light Rail line are endless, but include swift transportation to the airport and back, the money saved from the ever-rising parking prices at DIA, and the satisfaction of breezing past traffic. Positioned at the end of the line at DIA is the new South Terminal Transit Center which will include 3 components: a new 500-room Westin Hotel, a larger extension to the existing Jeppesen Terminal and the East Line Transit Center for RTD.
More pictures of the East Line Transit Center at DIA
In a recent update from RTD, the Denver East Rail line has caught the eyes of Google, literally. In an updated Google Maps satellite view from October 2012, the rail line bridge construction and alignment grading is perfectly visible along the entire 11-mile stretch of Peña Boulevard. Bridge piers are springing up seemingly overnight and now they have spread to E-470. These components will help make up the entire 23-mile DIA Light Rail line and what RTD calls the Denver East Rail Line and FasTracks.
The ultimate culmination of Denver's newly expanded light rail system at Union Station will be a huge triumph for commuters in Colorado. Both Amtrak and RTD will provide service to and from the historic building, as well as new, far-reaching rail lines to the east and west. The DIA Light Rail line is arguably the most anticipated, but the west line, opening this month, is just as substantial, with services to outlying Denver neighborhoods like Lakewood and Golden. We still have to wait a few years for the final product to be unveiled, but once it is, life in Denver is sure to change for the best, and the more convenient.