Historic and Modern Charm in Observatory Park Architecture
Posted by Alex Neir on Thursday, June 6, 2013 at 4:42 PM
By Alex Neir / June 6, 2013
Comment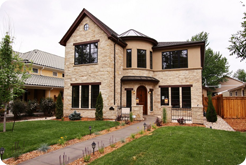 The Observatory Park neighborhood may be further from downtown Denver than some of the other neighborhoods we have profiled, but what it lacks in proximity to the city, it more than makes of for in historic charm and an atmosphere all its own. This area has a vibrant college-town feel, a central location, and distinctive Observatory Park architecture that help to make the neighborhood one of Denver's best.
Living in Observatory Park has numerous perks not seen anywhere else in the city. Its past and future are ever intertwined with the educational institution it neighbors. A quick 15-minute drive takes you from downtown Denver to the University of Denver campus; a quiet college nestled under mature trees and along shady sidewalks. Now it is time for a quick history lesson. John Evans, the second territorial governor of Colorado, originally founded Northwestern University in Illinois in the 1870s and wanted to create a comparable university in the west and this vision gave birth to DU. The University of Denver campus was developed throughout the end of the 1800s and contributed greatly to development of the surrounding neighborhoods. The Observatory Park home styles range from traditional bungalows and quaint Denver squares to more modern mansions and sprawling contemporary pieces. There is no set definition of Observatory Park architecture, except for the all-encompassing academic and classic feel.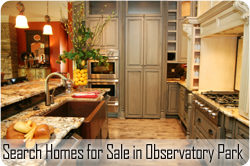 There is plenty do in Observatory Park, as it sits in one of Denver's most cultural areas. DU offers an abundance of concerts, seminars, lectures, theater productions, and of course, sporting events by the nationally ranked DU Pioneer hockey and lacrosse teams. The neighborhood also derives its name from the Romanesque-styled Chamberlain Observatory that houses a telescope and refractor lens that was displayed during the 1893 Chicago World Fair. This academic and historic nature has definitely rubbed off on the Observatory Park architecture as most of the neighborhood was built up to house academics and faculty at DU.
As the University of Denver continues to grow to national prominence, the neighborhood is following closing behind. Home prices and property values continue to climb in this area, with homes ranging from the modest $300,000s to the higher end multi-million dollar listings. Living in Observatory Park is becoming a hot commodity and houses are only on the market for a few days. With its great location, classic charm, and national acclaim, no wonder homes in Observatory Park are flying off the market!