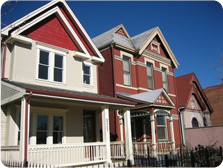 Very few of Denver's many neighborhoods have the rich, historical flare that can be found in Five Points. The streets are lined with mature trees, classically designed homes, and parks that have stood the test of time. Although it has had to endure the label as one of the city's rougher and lower-end neighborhoods, Five Points is making a strong comeback, showcasing its new and improved Five Points architecture: a co-mingled blend of historical charm and modern convenience.
Five Points is located just east of downtown and houses one of Denver's fastest growing areas, Curtis Park. Five Points has an interesting and well documented jazz history. Musical greats like Billie Holiday, Miles Davis, and Duke Ellington have played local clubs, including the Rainbow Room and the Rossonian. Locals know that the best Caribbean, soul, and barbeque can be found in many of Five Points' local eateries and undiscovered gems.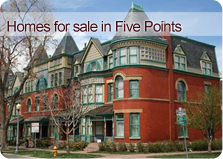 This rich, cultural history has contributed a fascinating flare and unique vibe to Five Points architecture. Victorian-style homes line the streets, painted bright colors and decorated with classic Victorian elements. Quaint front porches and small front yards are reminiscent of classic, Southern-American style and make Five Points home styles truly beautiful. But like most other lower-end neighborhoods in the city,...