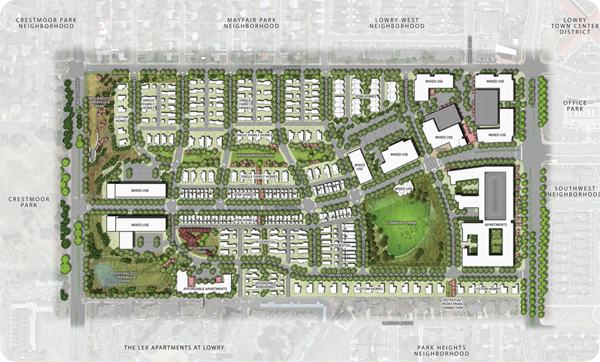 "Boulevard One is Going to Be HUGE!"
As all of us in Denver know, our city just keeps growing and growing and growing and getting better and better and better. Boulevard One in the Lowry neighborhood is going to be the main contributor to that positive, continued growth.
Boulevard One represents the last new neighborhood to be built at the old Lowry Air Force Base. It's going to be West of Quebec Street at Lowry Boulevard, where the original Runway One once ended. The community also sits just east of Cherry Creek and minutes from downtown Denver.
The location of the new neighborhood is outstanding as the Lowry Town Center is across the street, as is the Schlessman Family Branch Library and Hangar 2.
The neighborhood is uber walkable and public transportation is ultra accessible. There will be three light rail stations within five miles bringing residents to Downtown, Denver International Airport, and the southern office parks. Connectivity has also been thought out as Crestmoor park will feel like an extension of the neighborhood across Monaco Parkway!
The Boulevard One area will be 70 acres in total, with 120 single-family homes, 230 row-homes and 450 apartments. It will have qualified income housing available as well.
Some of the unique factors of Boulevard One will be the studio option spaces offered and a lot of first-floor master bedroom options. The vast majority of the new homes being built will be some of the most energy efficient in Denver.
Boulevard One will have many of the neighborhood amenities that a planned community should. The mixed-use commercial area, planned out by Kelmore...