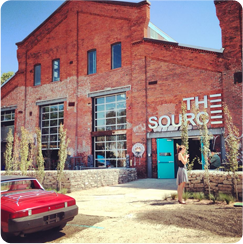 Being a self-proclaimed foodie from Chicago, I definitely know a good restaurant when I eat at one. You know, the ones that are going to make it. I literally eat at every new restaurant that comes to Denver. When the two dining 5280 magazines come out during any given year, I use both the "Top 25 Restaurants" and "Best New Restaurants" as my checklists of where to hit next. Last night, it was Acorn at The Source's turn.
I was with my husband and one other couple, and the goal was to try as much as we could! We ate upstairs, where there is a bit of a view of the action down below and a little more privacy. The menu at Acorn is comprised of a huge list of 19 "Shared Plates" and 2 "Large Plates", plus a separate, small dessert menu. On the back of the main menu is a drink list that has "Booze Free", "Low Booze" and "High Booze" options, plus tap and bottled beers. I went for a high booze drink called "Crossing the Tracks", which was their one vodka mixed cocktail. It was delicious, using local vodka, St. Germain, aloe and grapefruit. My hubbie went with a Green Flash/Founders IPA, my friend had the same as me, and her husband drank a "Warm Welcome", which used Jimmy Russell 6 year. Very good.
Now we needed food! Like I mentioned already, we wanted to try as much as possible, so our table stuck with the shared plates and went to town – Fried Pickles, Red Shrimp and Grits, Lamb, Oak Smoked Duck Breast, Ahi Tuna Tataki, Matsutake Mushrooms, Tomato Braised...