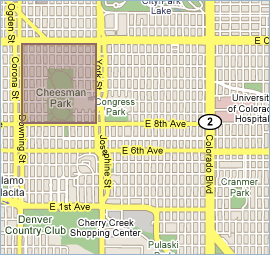 Cheesman Park is 80 acres of green space, surrounded by high-rise condos, historic mansions and rental apartments. In this area, you'll find a variety of retail stores, but what makes this community really attractive is its closeness to Cherry Creek, downtown and the park.
Walkability is one of the many reasons Cheesman Park is so popular with urbanites. Locals have easy access to nightlife adventures, as well as work opportunities. All sorts of people live here, including young folks and families. The median price of homes in this neighborhood is $234,500, with the average price being $376,959, which calculates to $229/square foot.
The popular places to visit around Cheesman Park include King Soopers (dubbed Queen Soopers...