Massive Real Estate Growth Likely as Denver Colorado Comes of Age.
Posted by Alex Neir on Wednesday, November 28, 2012 at 5:27 PM
By Alex Neir / November 28, 2012
Comment
Massive Real Estate Growth Likely as Denver Colorado Comes of Age.
I feel an overwhelming sense of pride as I look at how this great city of Denver will evolve over the next 7 years. I am a native Coloradian having grown up in Congress Park and then Parker, Colorado. Having lived in Colorado my whole life I have seen the city grow from a small little cow town into the beginnings of truly metropolitan city. I remember a time when it would snow on Friday and you could get up on a Saturday, hop in the car at 8:00 and be in Vail at 9:30. I remember the very limited number of restaurants that were semi-good if you choose to eat out. I remember when all interstate highways in the city were 2 lanes. I remember the home I grew up in, in Congress Park, selling for $510,000 when originally purchased for $70,000 indicating massive real estate growth in only 30 years . I have watched Coors Field transform the dilapidated area of lower downtown into the thriving central urban neighborhood called LoDo. I have seen the redevelopment of Riverfront Park and a pedestrian bridge over I-25 transform a sleepy neighborhood of lower Highlands into bustling community.
Regardless if you have lived in Denver a long time or are new to the city there is evidence abound indicating growth and vitality……..and this is only the beginning.
Over the course of the next 7 years two projects will fuel massive real estate growth of the Denver area more than any before them. The two projects I am speaking of are the Union Station Transportation Redevelopment project and the Regional Transportation Districts (RTD) Fast Tracks East Corridor project. The combination of these two projects will reshape how the city functions, making Denver more viable for big business and making Denver a metropolitan city in which you can live without a car.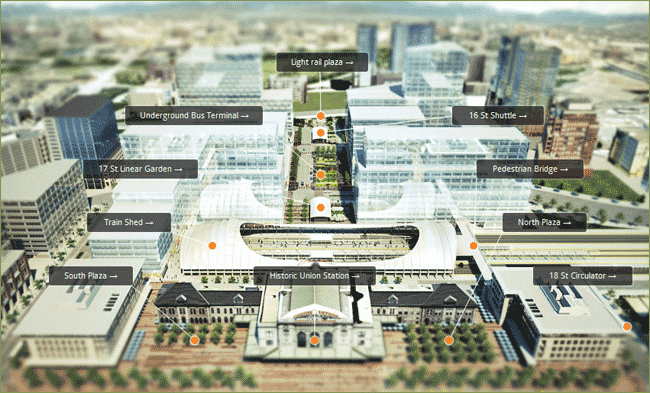 The Union Station Transportation Redevelopment is the largest transportation redevelopment project in North America. (www.unionstationdenver.com) The project is a redevelopment of the historic Union Station in downtown Denver from a train station into a centralized transportation hub for the city and surrounding areas. The redevelopment consists of a transportation depot built to accommodate 10 modes of transit connecting all the communities throughout the Denver metro area. There will be 6 new plaza's which include; Union Station Plaza South, Union Station Plaza North, Kinetic Plaza, Wewatta Plaza, 17th Street Linear Garden and Light Rail Plaza. All are open and vibrant outdoor spaces complete with dining, seating, flexible event space and interactive water features. The project will transform the landscape between Lower Dowtown (LoDo) and Riverfront facilitating a gather place for relaxation in the heart of the city.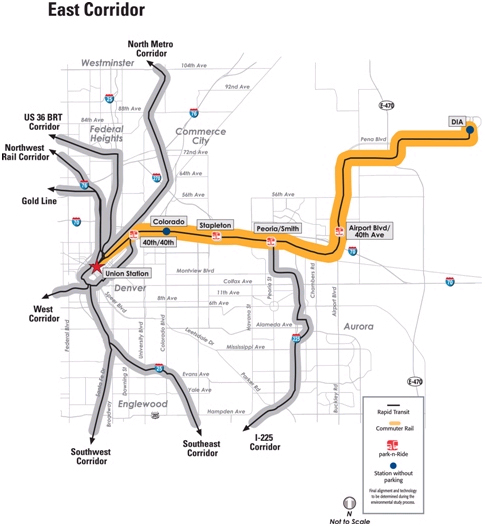 The RTD Fast Tracks East Corridor project is a 22.8 mile commuter rail transit corridor between Union Station and Denver International Airport (DIA). (www.rtd-fastracks.com/ec_1) The project is part of Fastacks which will build a seamless network of transit options connecting all communities of metro Denver by 2017. The East Corridor is significant in that it is the piece that connects all communities of Denver to the airport. With this in place Denver becomes a city with an exceptional quality of life, over 300 days of sunshine a year, phenomenal recreation and no need for a car!
This is a very exciting time for Denver. If you would like to know more about the opportunities Denver has to offer, please don't hesitate to contact the Neir Team.