Lowry Neighborhood | Boulevard One
Posted by Laura Fuller on Thursday, April 14, 2016 at 1:15 PM
By Laura Fuller / April 14, 2016
Comment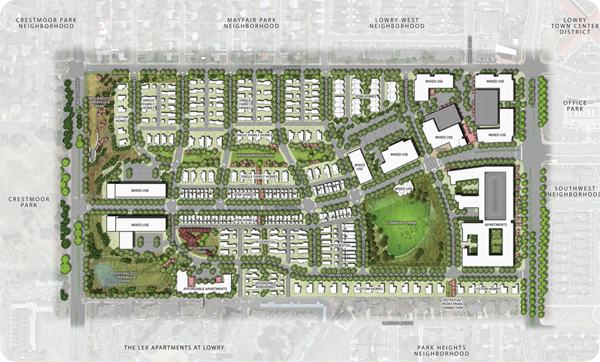 "Boulevard One is Going to Be HUGE!"
As all of us in Denver know, our city just keeps growing and growing and growing and getting better and better and better. Boulevard One in the Lowry neighborhood is going to be the main contributor to that positive, continued growth.
Boulevard One represents the last new neighborhood to be built at the old Lowry Air Force Base. It's going to be West of Quebec Street at Lowry Boulevard, where the original Runway One once ended. The community also sits just east of Cherry Creek and minutes from downtown Denver.
The location of the new neighborhood is outstanding as the Lowry Town Center is across the street, as is the Schlessman Family Branch Library and Hangar 2.
The neighborhood is uber walkable and public transportation is ultra accessible. There will be three light rail stations within five miles bringing residents to Downtown, Denver International Airport, and the southern office parks. Connectivity has also been thought out as Crestmoor park will feel like an extension of the neighborhood across Monaco Parkway!
The Boulevard One area will be 70 acres in total, with 120 single-family homes, 230 row-homes and 450 apartments. It will have qualified income housing available as well.
Some of the unique factors of Boulevard One will be the studio option spaces offered and a lot of first-floor master bedroom options. The vast majority of the new homes being built will be some of the most energy efficient in Denver.
Boulevard One will have many of the neighborhood amenities that a planned community should. The mixed-use commercial area, planned out by Kelmore Development Company, will have cafes, shops, offices, specialty grocers, restaurants, wine bars, clubs and other entertainment venues, all of which are walkable.
The open spaces within Boulevard One will be filled with eclectic art, and will be comprised of one large 5 1/2 acre community park, 6 additional public parks, and the public plaza. When fully developed, the greenery will be amazing with over 5,000 shrubs, perennials, and ornamental grasses. Boulevard One is going to be preserving 39 mature trees, transplanting 26 more and adding 350 new ones. The amount of shade in the neighborhood will increase by 250% over time. Boulevard One will also be putting in a total of four acres of manicured turf grass and 5 1/2 acres of irrigated shortgrass that will help immensely in keeping water usage down
There are up to 10 builders working in Boulevard One on the 120 single-family homes, ranging in price from the $600s to over $1 million. Some of the most well-known builders are Berkeley, Infinity, Thrive Home Builders and Wonderland Homes, and the sizes will range from 1,400 to 3,200 square feet.
The row-homes will have prime spots within the Boulevard One community along the signature central corridor of Lowry Boulevard. They will have a balance of lively activity all around them while at the same time having private rooftop decks to get up and away.
14 of the 230 rowhomes will be income restricted, and those will be breaking ground mid-2016 on Archer Place. Price range will fall between $147,000 and $167,000. The companies that are involved with bringing the row-home portion of Boulevard One alive are East West Partners with BuildMark (who did parts of downtown's Riverfront Park and Union Station), and Koebel Urban Homes, who will build two and three-story homes.
The apartments at Boulevard One will range from studio size to one, two and three bedroom units, and 72 of the 350 total will provide a range of affordable rents. The Denver Housing Authority run, mixed income, four-story building will be at Niagara Street and Archer Place. Amenities include a community room, computer center, and on-site play area. Renters in the general Boulevard One apartments will also be able to take advantage of a resort-style pool, landscaped courtyards, a heated spa, an outdoor cooking area, fire feature, yoga studio, resident lounge, on-site bike and ski repair shop and an enclosed dog wash facility.
Last but not least in Boulevard One, there will be five established firms building 25 custom homes. Builders include Alpert Signature Homes, Bello Custom Homes, GO Builders Inc., Latsis Custom Homes or Wall Custom Homes. Six of the homes will be built on the block south of First Avenue and west of Magnolia Street, and the other 19 will be west of Quebec on Archer Place.
Not only is Boulevard One going to be one of the hottest new neighborhoods in Denver, they are going all the right things to ensure is a great place to live.