Keep Your Resolutions: Find a Fitness and Weight Loss Special in Denver
Posted by Neir Team on Wednesday, January 2, 2019 at 9:30 PM
By Neir Team / January 2, 2019
Comment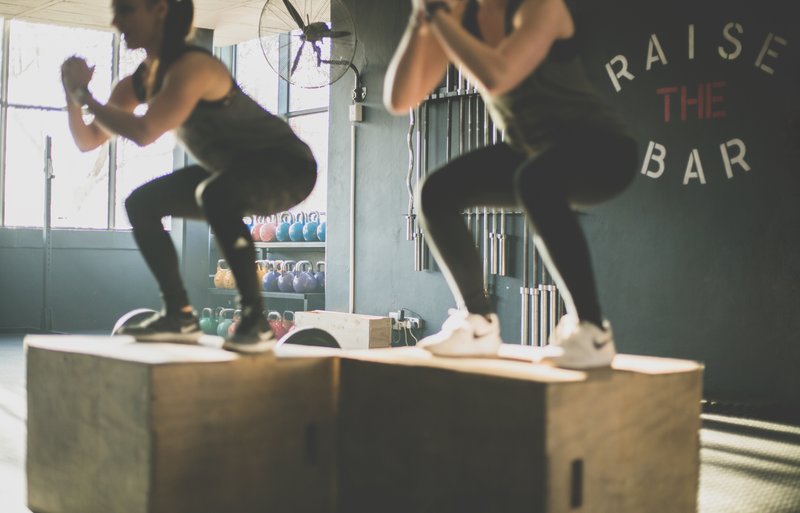 Photo by Meghan Holmes on Unsplash
Exercising more, eating healthier and saving money typically rank as the top three New Year's resolutions. If you have put any of these on your list, we've got you covered with great fitness and weight loss specials in Denver – in fact, right here in Central Park so you can get healthy, save money and really support local!
Aktivstyle.com
Don't sign up for fitness or weight loss special in Denver until you have the right gear. Activ, a Scandinavian clothing line owned by Central Park residents, is offering 40% of Newline Sports workout clothes (code: Newline40) and 15% off Moonchild yoga clothing (code: Moonchild15). @aktiv5280
Anytime Fitness Northfield
Join for $1! There are also personal training specials if you are looking for some one-on-one coaching. @AnytimeFitnessNorthfieldDenver
Bar Method Central Park
Bar Method Central Park wants to help make sure you keep your fitness goals with a New Year six-week challenge – finishers earn a free Bar Method tank and are entered into a drawing for a $150 Beyond Yoga gift certificate. Through Jan. 31, their fitness and weight loss special in Denver is $49 for your first month or a 10-pack pass for $135. @TheBarMethodDenverStapleton
Barre Central
Barre Central lets you test out if barre is for you with a free-week trial for new clients, valid anytime. (That means if you are a procrastinator, you'll still be able to get this fitness and weight loss special in Denver beyond January!) @barrecentralco
Bladium
Bladium is starting a new Les Mills program in January. To help you find out more about it and their fitness and weight loss special in Denver, Bladium hosting a fitness/nutrition expo on Jan. 21. @GFBladiumDenver
Briar Rose Wellness Group
Get 10% off eGift cards toward a IV hydration bag or weight-loss program when you use the code REALHOLIDAY. @briarrosewellness
Camp Gladiator
Get started at Camp Gladiator with a free five-week cycle. It includes workouts for all fitness levels taught by certified trainers and unlimited access to all locations through Feb. 2. Contact [email protected] to receive this fitness and weight loss special in Denver. @CampGladiatorDenver
Endorphin
This fitness and weight loss special in Denver gives you unlimited yoga, barre, strength training, cycling, kettlebell, metabolic conditioning, and more at all 10 Endorphin locations (including Stanley Marketplace, Eastbridge and Park Hill) for $119 per month. If you've never tried Endorphin, your first month can be $69 when you email [email protected]. @myendocommunity
Fit4Mom of Denver
Expecting or just had a babe? Fit4Mom teaches pre- and post-natal fitness while the wee ones watch (and learn good habits early) from their strollers. Try it out with their fitness and weight loss special in Denver: $25 joining fee waived and $90 for a 10-class pass, normally $120. @Fit4Mom Denver – Stroller Strides
Five Eggs
If you have trying Whole 30 on your resolution list, save yourself time and effort by letting Five Eggs help with the food. For the New Year, they have launched a new Whole 30 program. @fiveeggs
Hot Mamas Exercise
Hot Mamas Exercise on Colfax is offering a "bikini boot camp" and "bikini diet." This fitness and weight loss special in Denver is $350 for everything plus a consult and body fat analysis. Bonus: Childcare is provided by Arts and Minds, which offers programs that combine movement and arts for the littles. @hotmamasexercise @artsandmindscolorado
Just Dance
New Year, new neighborhood business! Try out the Just Dance Fitness Studio at Stanley Marketplace with a free dance party on January 13 celebrating its launch. You'll have fun and find out what dance fitness is all about. The party starts at 9 a.m. @justdancestapleton
Kindred Counseling
If improving your mental and physical health is one of your goals, Kindred Counseling (recently featured in Colorado Parent) offers a "Walk and Talk" program to combine therapy and fitness. Kindred Counseling also has traditional therapy and wants to welcome you to the practice in the New Year with 20% off two sessions when you mention the Neir Real Estate Team blog and book your appointments in January.
Moving Fitness Chiropractic
In addition to traditional chiropractic care, Moving Fitness Chiropractic also evaluates nutrition, habits, exercise posture and more. Their fitness and weight loss special in Denver is $25 off initial appointments with Dr. Elena Northen when you mention the Neir Real Estate Team blog.
Phoebe Smith Health & Fitness
Looking for a tailored approach from a fitness and weight loss special in Denver? Phoebe Smith offers online health and fitness coaching and runs fitness and nutrition accountability groups for women. Get started with $20 off a 20-minute workout package with 36 unique workouts, plus 30 days of nutrient dense shakes, and the equipment to do the program from home. You can add a 3 day gentle cleanse to kick off the year for $45, which is 25% off. @feedthesoulfitness
Shift Cycle + Fitness
Shift Cycle + Fitness has plenty of offers to match your New Year's goals of getting fit and saving money. There are different punch-card specials and an introductory first month of unlimited classes for $69. Their fitness and weight loss special in Denver also offers an optional challenge of completing 20 classes in 30 days to really get you started while giving you a chance to win great prizes. @ShiftCycleFitness