Neighborhood Profile: Denver's Washington Park
Posted by Eddie Winkler on Tuesday, June 2, 2015 at 7:53 AM
By Eddie Winkler / June 2, 2015
Comment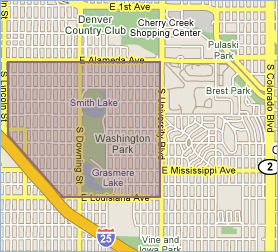 Interested in relocating to a home in Denver's Washington Park neighborhood? This area of town has some amazing features that make it a great choice for families as well as singles and couples of all ages.
To get started on your real estate search, visit our list of Wash Park homes on the market. Read on if you'd like to learn more about the neighborhood and all that it has to offer.
The Park
The neighborhood is centered around – and takes its name from -- one of the finest parks in Denver, known as Washington Park. The park sits on 165 acres and has a lot to offer, including two beautiful lakes, running trails, the largest flower garden in the city and a serene atmosphere that appeals to singles, couples and families. The park extends from Downing Street all the way to University Boulevard.
Neighborhood Statistics
Other than the gorgeous park setting you can visit anytime, you may be interested in who lives in the area. According to the most recent numbers from City-Data.com, the average median rent was $1,293 and the average value of detached homes was $521,029. The median income per household in the area, as of 2011, was $95,691, which is more than double the median salary of all Denver, which is $47,371.
In Washington Park, about 46.1% of the households are populated by married couples. Approximately 42% of households have children. The median age of residents is 40 years old for both men and women, which is a couple of years older than the median in Denver and Denver County.
Other Features
Some of the restaurants that you can find locally include Max Gill & Grill, Reivers Restaurant, Washington Park Grille. Curious about eating healthy locally? You can shop at the local Whole Foods Market, or swing by King Soopers, which is open 24 hours daily.
If you have children, there are grade schools nearby, including two of Denver's best public schools, Steele Elementary and Lincoln Elementary.
Find Your Dream Home!
Overall, the Washington Park neighborhood is a great place to live and play. It has everything a small community needs and is ideal for singles, couples and families alike.
The Neir Team is your expert source for everything related to Washington Park real estate! Check out our Wash Park Denver homes for sale page to find your dream home today!