Living at its Finest: Denver's Spire Residences
Posted by Alex Neir on Friday, April 5, 2013 at 10:44 AM
By Alex Neir / April 5, 2013
Comment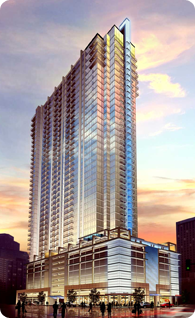 The view of the Rocky Mountains from downtown Denver is arguably one of the most beautiful scenes in the state. And from certain spots in the city, one can see from Longs Peak in the north down to Pikes Peak in the south in one, uninterrupted turn of the head. It truly is a breathtaking and remarkable sight, reserved for a select few places in town. However, a few are lucky enough to call Denver's Spire residences home and get to wake up to this view each and every morning. And for this reason, but not excluding others, living at the Spire is the definition of luxury living.
Located on the outer edge of downtown, the Spire is a monumental structure, standing taller than most other buildings in the city and topped with an ever-appropriate spire. The exterior of the building is impressive and creates a fabulous first impression, but the true glamour of this residential tower is experienced inside. When it comes to Denver luxury condos, the Spire adds a creative and designer spin to their units. Each are architecturally inspired with the finest finishes, sustainable features, and designer details. Denver's Spire residences are also an escape for the senses, as the walls are framed with windows and allow light and Colorado's breathtaking views to flood the residence. Almost every unit in the Spire offers unobstructed views of either the mountains or the city itself.
For those looking for the ultimate luxury experience, Denver's Spire residences offer a rather exclusive club. The top ten floors of the building are reserved for the SkyClub Collection: a series of residences that take luxury to a new level. These apartments come complete with upgraded appliances and finishes, panoramic views, expansive outdoor balconies, and exclusive access to the SkyClub lounge, an area for SkyClub Collection residents only. This lounge is unlike any other amenity in other Denver luxury condos; it comes equipped with billiards and different gaming tables, a kitchen ideal for entertaining, personal wine lockers, lounge seating, multimedia access, and an outdoor terrace.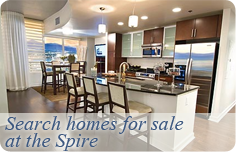 Although the SkyClub offers added benefits to those how can afford the extravagances, other people who call Denver's Spire residences homes do not feel short-changed. The amenity list for this building seems endless; it includes, but is not limited to, numerous pools and hot tub, a yoga garden, an elaborate fitness center and health club, an outdoor grilling area, dog park, private event lounge, handyman and housekeeping services, and dozens of other perks. Living at the Spire is not only fashionable and luxurious, but it is also easy and convenient.
With roughly 85% of the Spire residences currently taken, now is a perfect opportunity to visit this spectacular building and see what all the fuss is about for yourself before it's too late!