Life at Denver's Ritz Residences
Posted by Stacy Neir on Thursday, July 18, 2013 at 3:11 PM
By Stacy Neir / July 18, 2013
Comment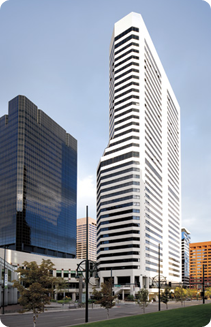 We have already showcased a few of Denver's preeminent luxury condos. From the Glass House to One Lincoln Park, there is a wide variety of gorgeous and spectacular condos to choose from if you are looking for the luxurious kind. However, the residences at the Ritz Carlton are truly in a league of their own. Named Residence XXV, these 25 Denver's Ritz residences set the bar high for other glamorous condos around town.
Located in the top part of the Ritz Carlton building at 1891 Curtis Street in Downtown, Residence XXV has it all. Units include breathtaking views of the Denver skyline, all of the services and amenities of the four-star hotel, a private lobby and elevator service to promote exclusivity, and a full service concierge service, dedicated solely to these 25 homes. By limiting the number of Denver's Ritz residences to a mere 25 units, each one is able to maintain its elite nature.
Living at the Ritz includes homes that are outfitted with the most luxurious finishes and details money can buy. The living and dining rooms are covered with fine hardwoods, from cherry to oak, mahogany to walnut. The open floor plan allows for individual customization and plenty of room for entertaining or simply relaxing. The kitchens are worthy of the finest chefs. Each is equipped with professional-level appliances, Berloni custom cabinetry, granite countertops, and kitchen bars and islands. The bedrooms are a quiet oasis, with views of downtown, huge walk-in closets, private access hallways, and plenty of light.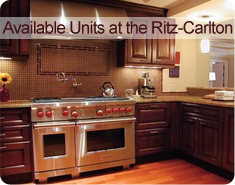 Owners of Denver's Ritz residences have access to some of the finest amenities around. Not only is the great city of Denver at their doorstep, complete with world-class restaurants, entertainment venues, and the famous Rocky Mountains, but they never have to leave their building to experience a luxurious existence. Owners of the 25 residences have exclusive admittance to the Owner's Lounge, a 3,000 square foot lounge complete with cushy chairs, a business center, and a quiet place to relax. Full hotel amenities are available, including spa services, housekeeping, a fitness club, valet and bellhop, and one of Denver's most popular restaurants, Elway's Downtown.
When it comes to Denver luxury condos, living at the Ritz rises above them all. With access to the hotel, the exclusivity of only 25 units, and the jaw-dropping views of Denver, nowhere else in Denver offers this level of luxury. The residences are filling up, however, so if you are interested in surrounding yourself with some of the nicest aspects of homeownership, now is the time to act!