Living Luxuriously at Denver's One Lincoln Park Residences
Posted by Alex Neir on Tuesday, April 30, 2013 at 3:08 PM
By Alex Neir / April 30, 2013
Comment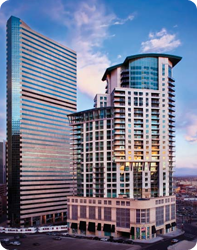 Denver has its fair share of luxury residences, from the Glass House in Riverfront to the Spire in Downtown. And each of these towering, Denver luxury condos offers breathtaking views, fabulous amenities, and a lifestyle to be envious of. Denver's One Lincoln Park residences, located on the outer edge of the city, is no different. This marvelous piece of architectural design is luxury living at its finest.
One Lincoln Park was designed by the nationally renowned Buchanan Yonushewski Group, LLC, an architectural company known for their Denver infill developments over the last 15 years. When they were approached to design a luxury condominium building in Denver, they assembled a special team specifically for One Lincoln Park and went into the project with one goal in mind: change the client's vision from what is available to what is possible. And with this goal clearly set forth, Denver's One Lincoln Park residences was born.
Living at One Lincoln comes with numerous options. The condos range from one to three bedrooms, 818 to 3315 square feet. The sprawling three-bedroom penthouse is equipped with a study, three and a half bathrooms, and a private terrace. But each condo as breathtaking features and upgrades that will satisfy even the pickiest of tastes. The gourmet kitchens offer handcrafted European cabinets, stainless steel appliances, slab stone countertops, and massive breakfast islands. The bathrooms come with ceramic tile floors, glass mosaic details, and high-end plumbing fixtures. The design team for Denver's One Lincoln Park residences did not overlook a single detail, thinking of everything from radius curtain wall glass to solid core doors and plenty of storage space.
All available units in One Lincoln.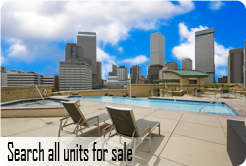 For those that can find time to venture from their perfectly equipped condominiums, the building itself offers extraordinary perks. Residents living at One Lincoln are free to enjoy a state of the fitness center, sun deck with an infinity edge pool, Jacuzzi, outdoor barbeques and fireplaces, glass fiber optic technology throughout the building, and of course, a fabulous Downtown location.
In the category of Denver luxury condos, Denver's One Lincoln Park residences reign supreme. Its prime location offers convenient access of some of the city's best restaurants and attractions, the amenities allow for a relaxed and convenient lifestyle, and the beautifully designed condominiums are jaw-dropping. With unobstructed views and everything one could possible need in a single building, One Lincoln Park is arguably the best living in Denver.