Denver Hot Spot: The Punch Bowl
Posted by Alex Neir on Tuesday, February 19, 2013 at 10:38 AM
By Alex Neir / February 19, 2013
Comment
Our Favorite Spot: The Punch Bowl Denver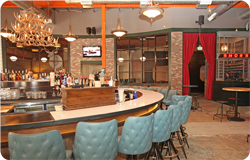 If you have been out in Denver recently, it is a pretty safe bet that you've heard of Denver's newest hot spot, the Punch Bowl. And if you have not already been there yet, do yourself a favor and go! This warehouse size restaurant and bar has reinvigorated Denver's nightlife and created a category all its own. One thing is for sure: going and eating out in Denver has never been so fun.
The Punch Bowl Denver is a self-claimed "social club". Situated in a monumental, 24,000 square foot, warehouse-style building, this new bar literally has something for everyone. Who could have guessed that the building used to be a Big Lots retail store? The interior décor is retro and funky, modern and edgy. Tufted bar stools circle the center bar, while elk antler chandeliers hang overhead. An attention to detail is evident throughout, from the exposed brick to the wall of framed mirrors. But despite all of the trendy décor choices, the main vision of the Punch Bowl Denver is ever clear: entertainment.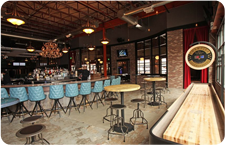 It opens everyday at 7 am to serve breakfast and stays open until the darkest evening hours for those looking to stay up late. They offer endless entertainment options, including eight lanes for bowling, ping-pong, marbles tables, shuffleboard, darts, and boards games, just to name a few. During the day, the Punch Bowl Denver facilitates a very family-friendly atmosphere, with plenty of games to keep the children occupied for hours. And as soon as the sun goes down, it turns into one of Denver's most popular bars. But if you don't like waiting in line, be sure to get there before 10 pm on the weekends!
As one of Denver's hot new spots, the Punch Bowl Denver also showcases a gourmet menu. The breakfast includes traditional favorites like waffles, breakfast burritos, and biscuits with gravy, but also provides some rather adventurous eats, like the lobster and cheese omelet or the smoked trout hash. Happy hour is a four-hour affair at the Punch Bowl Denver, offering a wide variety of small plates, including Mexican tacos, popcorn, and clam chowder. The full lunch and dinner menu is reasonably priced and served until midnight during the week and 1 am on the weekends.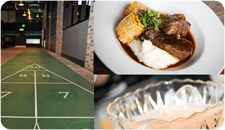 When it comes to drinks, the Punch Bowl Denver stays true to its name. Their four signature punches can be served in a glass on ice or in a larger punch bowl to share. In an attempt to remain environmentally conscious, all of their beer is either draft or in a can, and their selection of eight wines are served via keg service. But don't worry, they also offer a full bar as well.
The Punch Bowl Denver has good food, great drinks, and more games than you know what to do with-what more could you ask for?
The Punch Bowl Denver is located at 64 Broadway in the up-and-coming South Broadway corridor. There are numerous other great bars and restaurants close by if bar hopping is your thing. Make sure to also check out El Diablo, Beatrice & Woodsley, and Adrift as they are also very fun and diverse. Sandwiched between the Baker neighborhood and Byers Neighborhood, the South Broadway corridor is a nice alternative to the downtown nightlife.