Denver Hot Spot – Acorn at The Source
Posted by Laura Fuller on Friday, December 13, 2013 at 11:53 AM
By Laura Fuller / December 13, 2013
Comment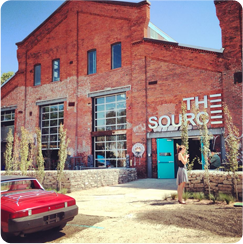 Being a self-proclaimed foodie from Chicago, I definitely know a good restaurant when I eat at one. You know, the ones that are going to make it. I literally eat at every new restaurant that comes to Denver. When the two dining 5280 magazines come out during any given year, I use both the "Top 25 Restaurants" and "Best New Restaurants" as my checklists of where to hit next. Last night, it was Acorn at The Source's turn.
I was with my husband and one other couple, and the goal was to try as much as we could! We ate upstairs, where there is a bit of a view of the action down below and a little more privacy. The menu at Acorn is comprised of a huge list of 19 "Shared Plates" and 2 "Large Plates", plus a separate, small dessert menu. On the back of the main menu is a drink list that has "Booze Free", "Low Booze" and "High Booze" options, plus tap and bottled beers. I went for a high booze drink called "Crossing the Tracks", which was their one vodka mixed cocktail. It was delicious, using local vodka, St. Germain, aloe and grapefruit. My hubbie went with a Green Flash/Founders IPA, my friend had the same as me, and her husband drank a "Warm Welcome", which used Jimmy Russell 6 year. Very good.
Now we needed food! Like I mentioned already, we wanted to try as much as possible, so our table stuck with the shared plates and went to town – Fried Pickles, Red Shrimp and Grits, Lamb, Oak Smoked Duck Breast, Ahi Tuna Tataki, Matsutake Mushrooms, Tomato Braised Meatballs (two orders!) and Grilled Short Ribs. All were excellent, with I think the meatballs and lamb being the best. We ordered just the right amount of food, guided by our server. Think 2 – 3 plates per person when you go. For dessert, we got one Butterscotch Pudding and four forks. Overall a wonderful food experience at Acorn. I actually think going with a larger group or people would be a lot of fun too!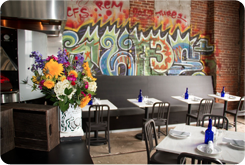 Acorn is located at 3350 Brighton Blvd., in a converted warehouse building which has other restaurants, a brewery, retail shops, even a bank in it. It is a very cool concept that has been brought to Denver from other American cities like New York and San Francisco. The feeling is very loft-like, with exposed brick and piping, and the people are "pretty" there.
Acorn is definitely the nicest restaurant in The Source, and its sister restaurant is OAK at fourteenth up in Boulder, which I have already eaten at as well. In fact, there are a few small plates that are the same at both restaurants. Think meatballs!
Eating out in Denver is always fun, but when you have creative drinks, an atmosphere with a ton of vibe, plus other things to look at, you really can't beat that. One of Denver's new hot spots is absolutely Acorn at The Source, and I believe it will be for a very long time to come.