David Weekly Releases Lots in Conservatory Green
Posted by Alex Neir on Wednesday, February 20, 2013 at 1:16 PM
By Alex Neir / February 20, 2013
Comment
David Weekly Releases Lots in Conservatory Green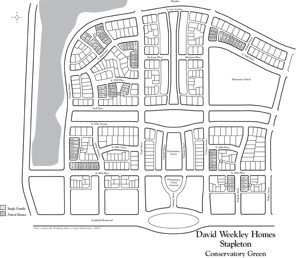 David Weekly has announced lot releases in the much anticipated new Central Park neighborhood of Conservatory Green. 66 new sites have been released for both the single family and paired home lines. Model homes are under construction and should be ready to walk through in March to early April.
The Cottage Collection represents a new line of single family homes being offered by David Weekley, priced from the low $300,000 range. They will be nicely appointed 2 story homes ranging from 1,500 to 1,900 square feet. 2 and 3 bedroom floor plans are standard with completion scheduled for August/September.
The Paired Home Collection is a new concept for David Weekly in Central Park's Conservatory Green. They are offering 3 distinct floor plans priced from the low $300,000. They will be attached ranging from 1,400 to 1,600 square feet with 2 and 3 bedroom plans available. Completion of the Paired collection will mirror the Cottage Collection with delivery scheduled for August/September.
The Conservatory Green neighborhood is situated to the north of I-70 and Northfield Mall. It will build upon the success of the Central Park neighborhood and offer numerous amenities. Walking distance from the restaurants and shops at Northfield will be the hall mark of the neighborhood. The central gathering place for the neighborhood will be the new Conservatory Green which will mimic Founders Green in the 29th Avenue Neighborhood. There will also be abundant green belts, walking and biking paths connecting into the Rocky Mountain Arsenal National Wildlife Refuge. A dog park, sporting fields, schools and pools are also sleighed to be placed throughout the expansive neighborhood.
Demand is likely to be high for the initial lot releases so if you are interested please give us a call and we can help you secure the best available lot for your brand new home. (720)935-4399.