Competitive Offers
Posted by Alex Neir on Tuesday, July 2, 2013 at 11:04 AM
By Alex Neir / July 2, 2013
Comment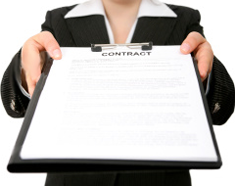 When a real estate market is experiencing low inventory and highly motivated sellers like the current one in Denver, the outlook can appear rather bleak for buyers itching to place an offer. Homes are going under contract within hours of going on the market and the majority are receiving multiple offers before weeding them down to a single winner. In a market like this, the best advantage a buyer has is to be competitive and formulate the most appealing offer possible. This is one of the most important home buying tips we can advise upon and here are a few ways to create your most competitive offer.
The importance of being prepared to act quickly cannot be stressed enough. Not only does that mean submitting an offer as soon as you can, but it also means being prepared before you even start the house hunt. Talk to your lender to find out how much you can afford and what your price range is. A seller will have greater peace of mind with your offer if they know your offer has financial backing. Then, hammer out exactly what you are looking for in a home. This includes your must-haves and then the items you can be a little bit more lenient with. The best type of competitive offer is one that has the financial support behind it and is for a house you know you'll love.
Bidding wars are not uncommon in a market like this. With multiple offers coming in, anxious buyers will escalate their offer in order to ensure the house is theirs. If you find yourself in such a war, know what your limit, or "walk-away", number is. In the heat of the moment or the thrill of the hunt, many buyers tend to push the sales price up too high for their financial security and end up paying more than they want, or can. Do not fall into the adrenaline trap and pay more for a house you are not entirely in love with. A competitive offer is also a smart offer.
In the end though, one of the smartest home buying tips we can give you is to find a realtor you trust. They are trained to inform and advise you of the best practices regarding a competitive offer and they are fluent in this arena. Their job is to work for you and help you get what you want, so if you find a house you love and decide to submit an offer, listen and trust your realtor to do their job. Your realtor is your coach and when the game is this competitive, they are your best secret weapon.