Cheesman Park Neighborhood Profile
Posted by Stacy Neir on Tuesday, January 27, 2015 at 1:35 PM
By Stacy Neir / January 27, 2015
Comment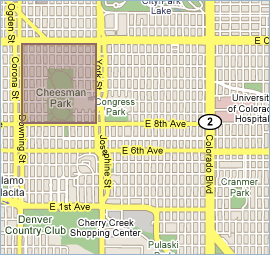 Cheesman Park is 80 acres of green space, surrounded by high-rise condos, historic mansions and rental apartments. In this area, you'll find a variety of retail stores, but what makes this community really attractive is its closeness to Cherry Creek, downtown and the park.
Walkability is one of the many reasons Cheesman Park is so popular with urbanites. Locals have easy access to nightlife adventures, as well as work opportunities. All sorts of people live here, including young folks and families. The median price of homes in this neighborhood is $234,500, with the average price being $376,959, which calculates to $229/square foot.
The popular places to visit around Cheesman Park include King Soopers (dubbed Queen Soopers by the locals), Hugo's Colorado Beer & Spirits. Torta's Grill and Wyman's No. 5 are two of the more popular restaurants. Families and lovers of cold treats can also enjoy ice cream at Liks Ice Cream or Skoops Ice Cream & More.
For a bit of creativity, you can visit Abend Gallery Fine Art, which showcases all sorts of media from across the world. Those who really enjoy beauty may also like to visit the Denver Botanic Gardens, where people can purchase plants in spring and autumn, enjoy concert series during the summer and the winter Blossoms of Light exhibit. Individuals who want to plan their own special event can rent out the park's neoclassical pavilion, which features beautiful mountain and city views.
To find your dream home in Cheesman Park, you need guidance from our real estate experts. Call Alex Neir at 720.935.4399 or Stacy Neir at 720.280.3004, or browse our online Denver real estate listings, to begin your home search today.