Central Park's New parks in Conservatory Green and Willow Park East
Posted by Stacy Neir on Tuesday, March 22, 2016 at 3:07 PM
By Stacy Neir / March 22, 2016
Comment
What is the status of the completion of the large parks on the North side of Central Park?
A park is a wonderful thing and we are blessed to have so many in our neighborhood of Central Park. Central Park has dedicated 35% of its land use to parks and open space. Why? Because parks are a place where we can get back to nature. Parks are a place where we take our kids and dogs to play and breathe in that fresh Colorado air. Parks are important to our community and our well-being and you will find one within a stone's throw of every home within the Central Park community.
Central Park has continued to grow and flourish to the north of I-70 with four neighborhoods under construction or completed. Those neighborhoods include Conservatory Green, Willow Park East, Wicker Park and Central Park's next great neighborhood Beeler Park.
There are numerous parks slated to be completed over the next few years and the Neir Team has the scoop.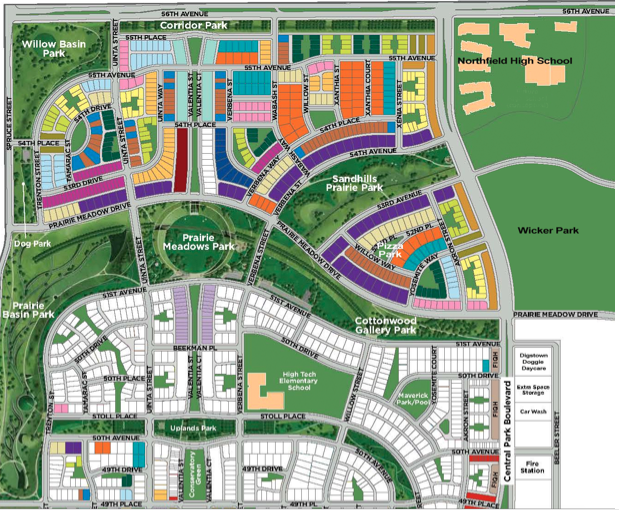 CONSERVATORY GREEN PARK UPDATE
The large parks in Conservatory Green are all completed. They include the Conservatory Green and Uplands Park.The Conservatory Green area is similar to the Founders Green on the south side of Central Park. It's a gathering place for community events including markets and concerts. The large trunk space running through Conservatory Green is complete and is called Uplands Park. The park runs West and East and is bounded by Stoll Place to the North and E. 50th Avenue to the South. It features walking/running trails, picnic areas and ping-pong tables.
WICKER PARK EAST PARK UPDATE
There are numerous notable parks in Wicker Park East including Prairie Basin, Prairie Meadow, Cottonwood Gallery, Sandhills Prairie, Willow Basin, Corridor Park, a Dog Park and Pizza Park.
The big question on everyone's mind is when is the BIG park (similar to Central Park on the south side of Central Park) getting completed?
This big park, located to the North of E. 51st Avenue and south of Prairie Meadow Drive, will be a total of 33 acres and will feature running/walking trails, a playground and a community garden. It will feature native flora and fauna, large Cottonwood trees, a winding river and rolling hills. It can be broken down in to three parts starting with the western most portion called Prairie Basin which is complete.
Moving east of Prairie Basin along Uinta Street is a park called Prairie Meadows. Prairie Meadows Park will be a grand open space with a circular raised mound expected to have expansive mountain views. Construction will begin this Spring/Summer of 2016.*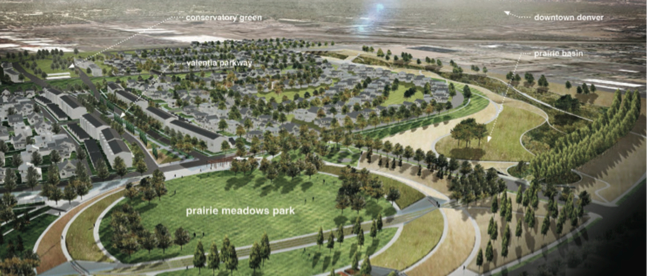 Moving further east of Prairie Meadows Park you will find a longer skinnier park called Cottonwood Gallery, which will feature a playground and Central Park's next community garden. Construction will commence this Spring/Summer of 2016.*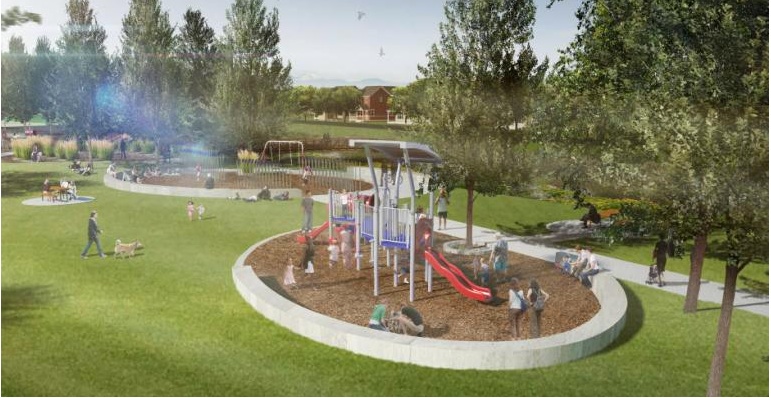 Sandhills Prairie Park connects with Cottonwood Gallery and flows Northeast toward Central Park Blvd. This park is touted to be the highest point within the Wicker Park neighborhood and will offer stunning views of the Front Range. Construction for this park will commence in the Spring/Summer of 2016.*
Corridor Park runs east and west along 56th Avenue with construction commencing Spring/Summer of 2016.*
Pizza Park is shaped like a slice of pizza, hence the name. It features an outdoor kitchen, a grill and a pizza oven and numerous edible herbs to add to your slice of za. The construction for this park is complete.
The three-acre dog park to the north of Prairie Basin will commence construction Spring/Summer of 2016.*
*The start date is contingent upon bidding and contracting.
For more information about Central Park or Central Park homes for sale contact the Neir Team!
Stacy Neir: 720-280-3004