Central Park Westerly Creek Construction Set to Begin
Posted by Alex Neir on Friday, February 8, 2013 at 11:06 AM
By Alex Neir / February 8, 2013
Comment
Central Park Westerly Creek Construction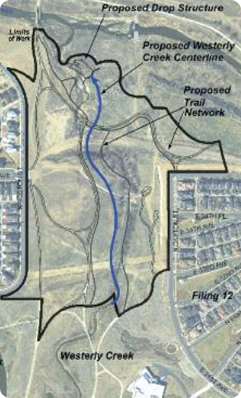 In an exciting announcement made on January 8th, Mayor Hancock confirmed that construction will begin before schedule on the Westerly Creek North open space. The date for commencement was on hold until 2017 when tax funds would become available, but as of early January, the process is underway. This Central Park Westerly Creek construction is exciting news for thousands of residents, as this park will only add to the Central Park open space and create yet another fantastic system of bike and walking paths.
The Central Park green space, located on the northern end of the already existing Westerly Creek area, has some major work planned before it opens to the public. Still owned by Denver International Airport, the open space area will need to undergo environmental remediation before the Central Park Westerly Creek construction can begin. The remediation will remove nontoxic substances from the ground, reaching down to at least four feet under the surface. Drums that were once buried, containing roofing material and asbestos from the 1940s and the 1950s, will be cleanly removed and disposed of. Once all of the material is removed and the excavation sites are refilled with clean backfill, turning the land into a safe Central Park open space can begin.
The eagerly anticipated completion date of the Central Park Westerly Creek construction is 18 months after the remediation is finished, which itself is expected to take upwards of two years. Although this may seem like a long wait, the final product will be more than worth it. This portion of Central Park open space will connect the Sand Creek and Westerly Creek trails and create an amazing habitat for native wildlife and plants that residents can safely enjoy. Numerous bike and walking trails will curve throughout the Central Park green space and open up the 34-acre plot of land to recreational use.
Even after all of the work is done on the site, the full natural benefits will not be visible until the natural grasses, most of which must be planted by hand, begin to flourish on their own. It will take some time for the wildlife to readapt to the area once the construction ends, but overall, the end result of the Central Park Westerly Creek construction is exciting and enthusiastically awaited!