Central Park property value set to increase with light rail stop
Posted by Alex Neir on Tuesday, December 4, 2012 at 2:33 PM
By Alex Neir / December 4, 2012
Comment
How much will Central Park property value increase when light rail completes
This is a question I have been curious about for some time. It seems logical that in a neighborhood as active as ours that the benefit of light rail will be profound. Not only will it allow of easy car-free access to the airport it will afford stress-free travel to and from downtown.
Imagine walking over to the Central Park Station to jump a train for a quick ride downtown for a show, game, dinner or stroll. Imagine jumping a train to the airport and leaving your car parked in your garage. Imagine meeting family, in from out of town, at the Central Park Station and not the airport. This list goes on and on. With all the quality-of-life improvements coming with commuter rail access how do we translate them into property value appreciation?
We need a way to determine if this new transportation hub, opening in our back yard, will have an impact on property value. The term "Transit Premium" has been established for just this purpose and is defined as the value added to property by proximity to high capacity transit. A report prepared by Reconnecting America for the Federal Transit Administration studied high-capacity transit in Washington D.C., Dallas, San Diego and Portland. They concluded that not only does viable high-capacity transit spur robust development but also has a significant impact on Transit Premium. The following was pulled from the report.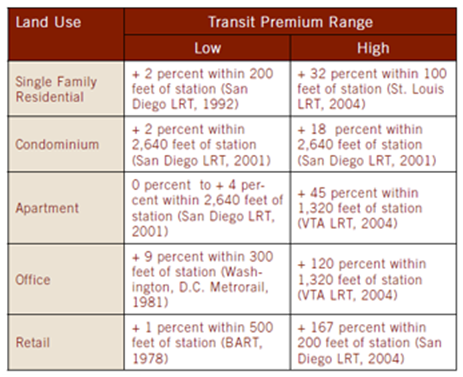 This particular report focused on property within a very close proximity to transit stations.
Additional research has also been conducted by RTD FastTracks with regard to transit and property values. The following information has been pulled from the RTD FastTracks, Impact of rail transit on property values.
Analysis of property values surrounding the Metrorail in Miami-Dade County between 1971 (13 years before the line opened in 1984) and 1990 revealed a 5% higher rate of appreciation compared to the rest of the City of Miami.
Two separate commuter rail systems were analyzed in Philadelphia and Pennsylvania confirming proven premiums for proximity to commuter rail. In suburban New Jersey the median price for homes served by PATCO rail line were 10% higher than homes not served by the line. In Pennsylvania the homes served by the SEPTA commuter rail enjoy a 3.8% premium over homes not directly served.
A study of the Eastside Metropolitan Area Express (MAX) light rail line in suburban Portland uncovered, on average, 10.6% greater value for homes within 500 meters (1,640 feet) of transit. The study attributed the gains to homes within walking distance of the station. The study also noted that nuisances such as noise and traffic reduced property value impacts on properties closest to the station.
Analysis of 5 rail systems in California including San Mateo County, San Francisco, San Jose, Sacramento and San Diego concluded that systems with the highest ridership rates and locations access experienced the most significant association between station distance and value.
The primary positive impact of rail on property value is accessibility. It's been determined that properties within a limited distance of transit stations achieve the most positive effects. Distance is generally defined as a walk of one quarter to one half miles. Beyond this zone the effect on property value is less significant.
Given the research presented here it's not unreasonable to expect the same thing to happen in Central Park. I argue that the positive impacts of Central Park Station will be significant. Not only is Central Park directly linked to Denver International Airport and downtown, the I-225 Line will then link the neighborhood to the Anschutz Medical Campus. Other lines slated by FastTracks make Central Park very accessible from the entire city and make the neighborhood extremely desirable.
Resources
Cambridge Systematics, Economic Impact Analysis of Transit Investments: Guidebook for Practitioners, TRB Report 35, Transit Cooperative Research Program, Transportation Research Board (www.trb.org), 1998 http://onlinepubs.trb.org/
Onlinepubs/tcrp/tcrp_rpt_35.pdfDiaz, Roderick B., Impacts of Rail Transit on Property Values, American Public Transit Association Rapid Transit Conference Proceedings Paper, May 1999.
http://www.rtd-fastracks.com/media/uploads/nm/impacts_of_rail_transif_on_property_values.pdf
Parsons Brinckerhoff, The Effect of Rail Transit on Property Values: A Summary of Studies, Project 21439S, Task 7,
NEORail II, 2001. http://www.reconnectingamerica.org/public/show/bestpractice162
Smith, Jeffery and Thomas Gihring, Financing Transit Systems Through Value Capture, Victoria Transport Policy Institute, 2006. http://www.vtpi.org/smith.pdf