Central Park Neighborhood Appreciation | Q4, 2015, Year over Year
Posted by Alex Neir on Tuesday, March 15, 2016 at 11:25 AM
By Alex Neir / March 15, 2016
Comment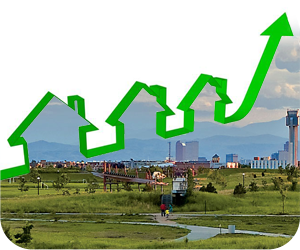 The Central Park neighborhood is comprised of 10 individual neighborhoods. Most analysis focuses on Central Park's overall performance and how it relates to other Denver neighborhoods. We are starting a series that will be released every quarter that looks at each named neighborhood of Central Park and how it compares to the others.
This article presents detached single family sales stats from the 4th quarter of 2014 compared to the 4th quarter 2015.
Based on the data, it looks like Central Park West was the best performer. Sale prices increased 19% year over year in Central Park West. Looking at the data it's important to look at the sample size when evaluating the results. For Central Park West the total homes sold in Q4, '14 compared to Q4, '15 was 3 and 5 respectively. With that small a sample size, each home sale has a greater impact on the results.
That being said, Central Park North may have had the best performance. The neighborhood appreciated 15% on 13 and 15 respective home sales.
Looking at each neighborhoods performance it is clear that Central Park is a good place to own real estate. The average appreciation was 13.68%. Does your neighborhood give you bragging right?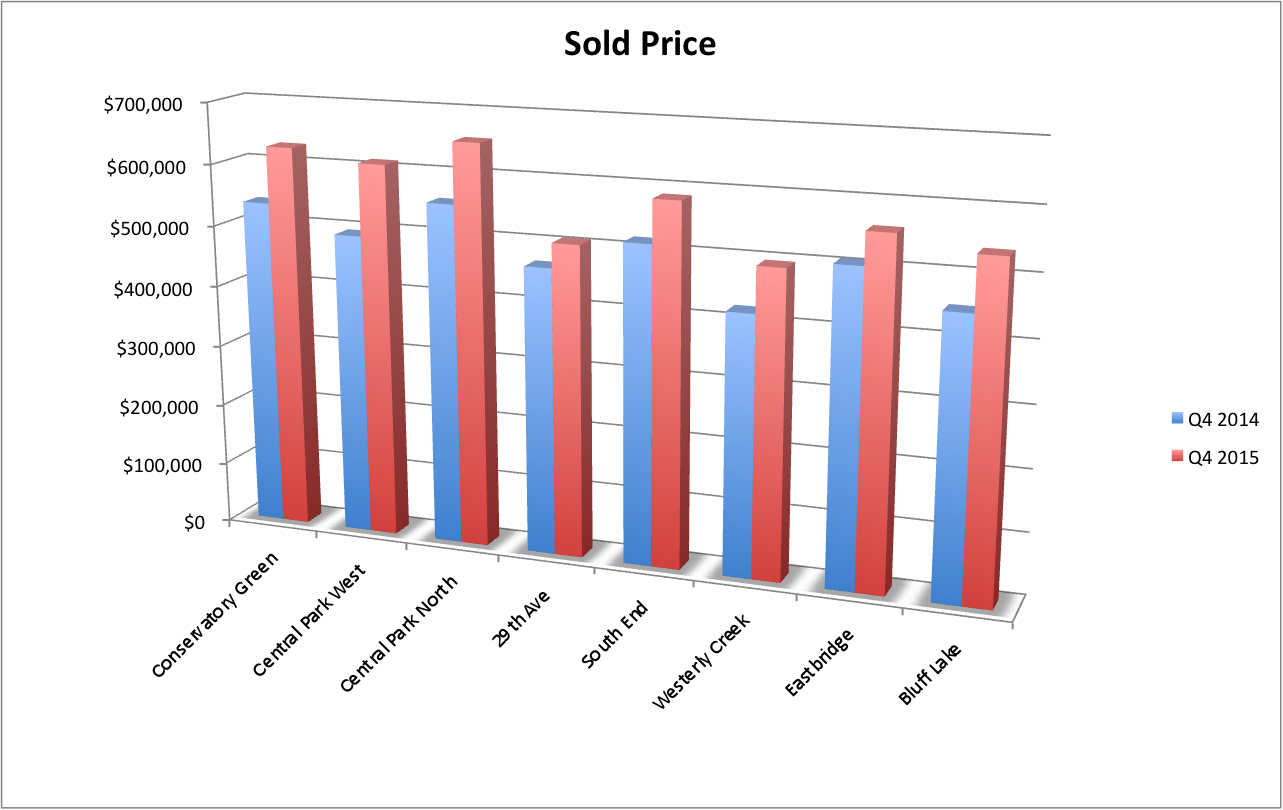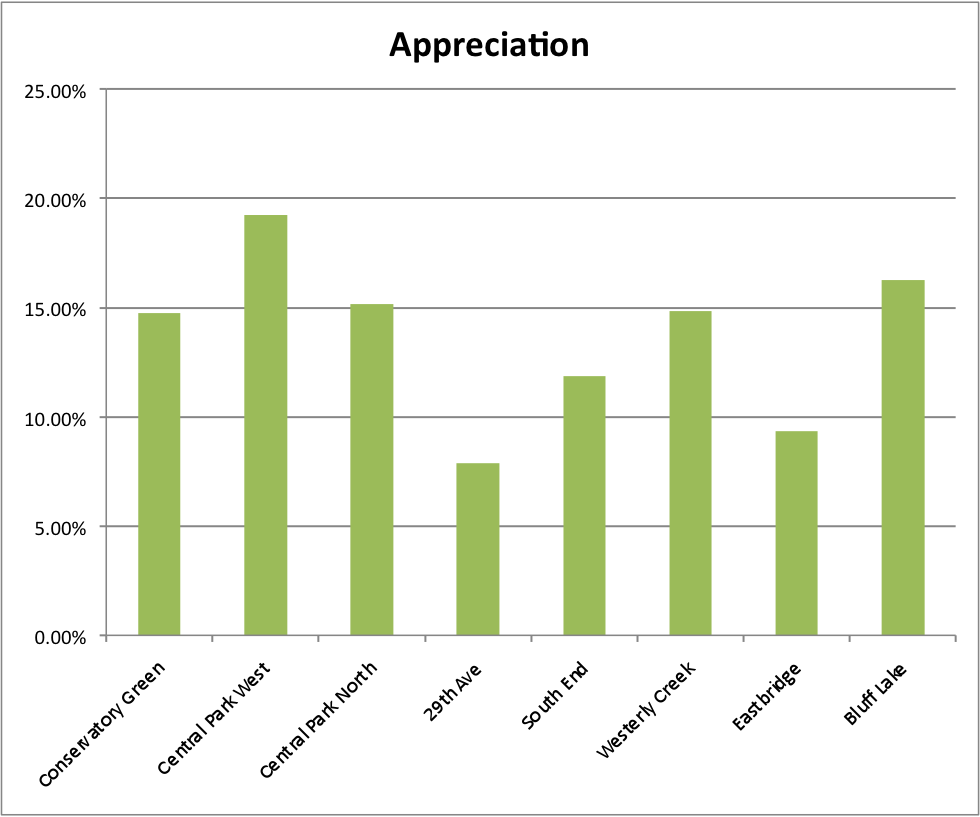 Here are the statistics for each of the individual neighborhoods.
Conservatory Green
Units Sold
Q / Y
Beds
Baths
Above Grade SqFt
Total SqFt
PSF Above Grade
PSF Total
Sold Price
CDOM
24
Q4 2014
4
4
2,098
3,172
$260.26
$170.73
$535,871
54
23
Q4 2015
4
4
2,240
3,358
$283.58
$188.80
$628,562
31
% Change
6.34%
5.54%
8.22%
9.57%
14.75%
-74.19%
Central Park West
Units Sold
Q / Y
Beds
Baths
Above Grade SqFt
Total SqFt
PSF Above Grade
PSF Total
Sold Price
CDOM
3
4th / 2014
3
3
2,178
3,203
$226.88
$154.78
$493,333
24
5
4th / 2015
4
4
2,391
3,473
$259.85
$177.56
$610,960
33
% Change
8.91%
7.77%
12.69%
12.83%
19.25%
27.27%
Central Park North
Units Sold
Q / Y
Beds
Baths
Above Grade SqFt
Total SqFt
PSF Above Grade
PSF Total
Sold Price
CDOM
16
4th / 2014
4
4
2,227
3,330
$253.48
$168.89
$555,374
41
13
4th / 2015
4
4
2,249
3,424
$297.98
$194.23
$654,569
37
% Change
.98%
2.75%
14.93%
13.05%
15.15%
-10.81%
29th Ave
Units Sold
Q / Y
Beds
Baths
Above Grade SqFt
Total SqFt
PSF Above Grade
PSF Total
Sold Price
CDOM
5
4th / 2014
3
3
1,897
2,845
$249.73
$166.77
$466,360
31
9
4th / 2015
4
4
1,923
2,589
$266.14
$206.97
$506,328
48
% Change
1.35%
-9.89%
6.17%
19.42%
7.89%
35.42%
South End
Units Sold
Q / Y
Beds
Baths
Above Grade SqFt
Total SqFt
PSF Above Grade
PSF Total
Sold Price
CDOM
12
4th / 2014
4
4
2,095
3,208
$249.91
$162.54
$516,158
81
15
4th / 2015
4
4
2,379
3,340
$246.62
$187.93
$585,809
35
% Change
11.94%
3.95%
-1.33%
13.51%
11.89%
-131.43%
Westerly Creek
Units Sold
Q / Y
Beds
Baths
Above Grade SqFt
Total SqFt
PSF Above Grade
PSF Total
Sold Price
CDOM
9
4th / 2014
3
3
1,740
2,459
$249.99
$180.74
$421,741
40
6
4th / 2015
4
3
2,060
2,714
$243.08
$203.86
$495,322
31
% Change
15.53%
9.40%
-2.84%
11.34%
14.86%
-29.03%
Eastbridge
Units Sold
Q / Y
Beds
Baths
Above Grade SqFt
Total SqFt
PSF Above Grade
PSF Total
Sold Price
CDOM
14
4th / 2014
4
3
2,156
3,154
$235.37
$162.35
$507,064
56
19
4th / 2015
4
4
2,148
3,181
$266.44
$183.94
$559,416
36
% Change
-.37%
.85%
11.66%
11.74%
9.36%
-55.56
Bluff Lake
Units Sold
Q / Y
Beds
Baths
Above Grade SqFt
Total SqFt
PSF Above Grade
PSF Total
Sold Price
CDOM
3
4th / 2014
4
3
1,608
2,673
$281.73
$168.55
$449,800
17
4
4th / 2015
3
4
2,153
3,240
$253.85
$168.68
$537,200
31
% Change
25.31%
17.50%
-10.98%
.08%
16.27%
45.16%
% Change