Central Park's Upcoming Holiday Events
Posted by Laura Fuller on Thursday, November 7, 2013 at 12:23 PM
By Laura Fuller / November 7, 2013
Comment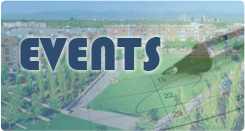 Everyone knows that the holidays are one of the busiest times of year. For some people, they love it. For others, they just want them to be over. There is so much planning, organizing, shopping, whether it's for turkey or presents, and we sometimes don't slow down to actually enjoy ourselves.
Living in Stapleton, with all the different people in the 1,000s of homes, lies a lot of opportunity for parties, family get-togethers, dinners, you name it! The community as a whole also offers an array of Central Park events to help make life a little bit easier during such a crazy time. Let others take care of the plans and logistics for you! You can even get some of your shopping done right in our 29th Ave. Town Center, and other areas within the confines, between our local grocery store and our small boutiques and shops.
One of the most anticipated Central Park holiday events is the official "Winter Welcome". A large Christmas tree is lit in the Town Center, there's music, s'mores for the family, other kid-friendly activities, some early bird shopping, and even a special appearance by a favorite white-bearded man in a red suit. The very fun welcome will be held on Friday, November 22nd starting at 6:00 pm.
Two weeks later, on Friday, December 6th, there will be a showing of the movie Elf, as the official Winter Movie on the Green. With Colorado weather, you and your family and friends could be bundled up on AND under blankets at the outdoor flick, or it might just be super mild that night. You'll have to wait and see…
Throughout the last two months of the year, there will also be several "Kids Nights Out" at the Central Park Rec Center for parents to take advantage of, two Active Minds seminars on Fracking and the U.S. Energy Policy in the Master Community Association (MCA) community room and plenty of adult programs at the Sam Gary Branch library, including sewing, a holiday craft open house and a cookbook swap.
One last important thing to do in Central Park will be when you can decide whether you are going to head up to the mountains to chop down your own tree or whether you simply want to buy one at the corner of Roslyn and 29th Ave. Your choice! Again, it's just one of Central Park's many things that might make life a little bit less stressful during such a busy time.
Bottom-line is, Central Park holiday events come in all shapes and sizes, and the variety is never boring. Something for everyone, that's Stapleton.