Central Park Events in May
Posted by Alex Neir on Monday, May 6, 2013 at 11:48 AM
By Alex Neir / May 6, 2013
Comment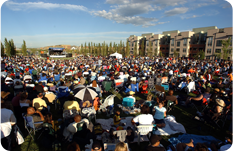 Despite the freak Colorado weather and the late season snowstorms, summer really is right around the corner! May is a wonderful month with the flowers starting to bloom, the temperature rising, and the increase of people venturing outside. This is more than true in Central Park, when monthly events kick off and the much anticipate Memorial Day brings with it the opening of the pools and the official start of summer. Central Park events are creative and fun throughout the year, but after a long winter, the events this month are even more awaited.
One of the perks of the warmer spring months is the ability to spend hours outside, basking in the sun. The Sweet William Market takes advantage of this and brings together vendors of all kinds. It sets up on the Green every last Saturday of the summer months, with its official kick off on Saturday, May 25th. If you cannot decide what to do in Central Park on this holiday weekend, pack up the family and head down the Green and explore the various treasures and unique fares that are for sale. This is one of the most eagerly anticipated Central Park events and the wait is finally over.
But arguably some of the best amenities in Central Park are the four pools, dotted throughout the neighborhood. However, they don't serve much purpose covered in snow. On Saturday, May 25th, all four pools open for the season in grand style. Every resident knows when this is happening in Central Park, as music fills the air from the DJs at each pool. It truly is one of the liveliest and entertaining of Central Park events and helps to bring in the summer. The pools are open from Memorial Day weekend in May until Labor Day weekend in September.
For those looking to get in touch with their artistic side, Central Park's own Theatre on the Green is back with the opening performance of Hairspray on Friday, May 31st. Gather around for an outdoor performance, mingle with friends, and finally take advantage of that late-setting sun. Throughout the summer, Central Park events showcase numerous artistic gatherings on the Green, from plays to movies to concerts. Check back frequently for an update of what is playing on the Green that month. With so much to do in this amazing neighborhood, you'll also know that there is something to do in Central Park.