Central Park Events for September
Posted by Laura Fuller on Friday, September 6, 2013 at 3:57 PM
By Laura Fuller / September 6, 2013
Comment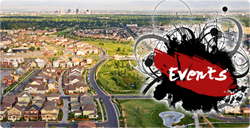 Some people think that when summer is over, all the fun is over. In Central Park, they're just getting started again! Particularly in Denver, Colorado, the residents here know how to maximize the amazing weather they have, truly all year long. The pools may be closed, and school might be back in session, but swimming with friends simply scratches the surface of what Central Park as a community has to offer.
Central Park events are for everyone. Whether you're an individual, a couple or a family and whether you're young, old or somewhere in between, there is always something to do. People will be out and about all the time, in the parks, on their blocks and up at the many retail areas and restaurants throughout the community.
For what's happening in Central Park, there are a million resources one can check, like the many informational websites online, their monthly newspaper called "The Front Porch", their neighborhood magazine, the amazing new visitor's center in the Conservatory Green area north of I-70 (did I mention they grow fruits and vegetables there and donate all the food to the lower income housing?!), etc. Events are organized keeping easy planning in mind.
The Central Park events that are happening the month of September are:
Friday Night Wine Tastings - Friday, September 6th, The Grape Leaf will be providing an assortment of 90+ rated wines at 6pm at the West Crescent. Tickets are $15 each and include wine samples and a complimentary Govino wine cup. Whole Foods Market - Cherry Creek will be providing cheese and charcuterie plates for the tasting. Tickets may still be purchased at the event for $20 each - cash only. This event is open to everyone ages 21+ (includes Central Park residents and nonresidents). To purchase a FFF September ticket, please CLICK HERE. Please pick up your tickets at the MCA office prior to the tasting. Tickets can also be picked up at the will call station (West Crescent) at 5:30pm on Friday the 6th. Please bring a valid ID and your First Friday Flight wine ticket to enter the event.
Last Concert on the Green – The last concert in Central Park is scheduled for this Saturday, September 7th at 6pm on The Green featuring a performance by Dotsero! More about Dotsero. All concerts are FREE and open to the public. Saturday night food trucks: Gigi's Cupcakes, Street Eats, Coaches Scoop, Bombo's Shave Ice and A' Go-Go Crepes.
"Dog Daze" – On Sunday, September 8th, bring your dogs for a swim at the F-15 pool in Central Park. Schedule is as follows: 12:45pm - check-in will open for small dogs. 1pm - small dogs (under 40lbs). 1:45pm - BREAK, small dogs must leave the facility. 1:45pm - check-in will open for large dogs. 2pm - large dogs. 3pm - all dogs must clear the facility. Registration is $5 per dog - proceeds will benefit a local nonprofit animal organization! You may not swim with your dog. Registration: register a small dog, register a large dog.
Modern Conversations: Preparing Your Relationship for Children - Hilary Silver's first seminar will take place on September 18th from 7pm - 8:30pm in MCA Community Room at 2823 Roslyn Street. The cost is free! Any questions, please contact Hilary directly at 720-935-7393 or

[email protected]

.
Cherry Pie Park – In Central Park, there are several locations where cherry trees grow, like on 29th Ave. and in Aviator Park. People are welcome to hang cherry pie recipes on the line clips in the orchards to share with neighbors.
Yoga Meet and Greet – On Friday, September 6th from 6pm-9pm, CorePower Yoga will be throwing a first Friday social.
Artist Studios Tour - The Central Park Artists welcome the public to see their artistic process in an up close and personal way on September 28th and 29th from 11am – 5pm. There will also be an opening reception on Friday the 27th, from 6-8 pm at Art & Framing at Central Park, 7483 E. 29th Place, Denver, CO 80238, with silent auction, hors d'oeuvres and beverages.
So when asking yourself what to do in Central Park, there is absolutely a Central Park event for you!