Central Park Denver Neighborhood Profile
Posted by Stacy Neir on Thursday, September 3, 2015 at 8:55 AM
By Stacy Neir / September 3, 2015
Comment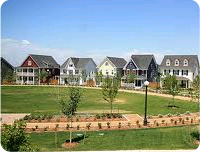 Roughly six miles to the east of downtown Denver sits one of the biggest urban redevelopment projects in the U.S. in the past quarter century: Central Park.
When the airport moved east, local voters decided the old airport space should be transformed into a neighborhood. Today, even though most trees and homes in Central Park are barely a decade old, it would be more accurate to call it a community than a neighborhood.
There are roughly 20,000 residents who call the 4,100-acre Central Park home. It may not be the perfect for every type of home buyer -- yards are small, houses are close together, playgrounds and parks are busy and plentiful -- but with the booming population and consistently high level of interest in real estate in Central Park, they are clearly doing something right on the northeast side of Denver.
From the beginning, the development was created with "New Urbanism" principles in mind. That meant public areas and eco-friendly homes would be top priorities. Quickly, the neighborhood began to attract on-the-go families who loved the focus on green living and building a naturally communal atmosphere.
For those who embrace it, this is a dream neighborhood and an ideal place to raise a family. In addition to copious park and play space, Central Park has 14 of its own schools, some of which are rated among the best in the entire city (100 percent of Central Park's Denver School of Science and Technology graduates have been accepted by a four-year college!). Check out our page on Central Park Denver schools to learn more about the excellent elementary, middle and high schools.
Things to do in Central Park
There is never a shortage of things to do in Central Park. As you can see on the community events page, there is a full calendar of gatherings. More than 60 community events take place each year. The community features 50 restaurants, 100 shops and stores, a 50,000 sq foot recreation center, six community pools, two community gardens, a sledding hill, a skate park, and much more.
For families with children and retirees with grandkids living nearby, Central Park real estate is a top priority during a Denver home search. If you are looking for a home in one of the fastest growing communities in the metro area, contact The Neir Team today!
We specialize in Central Park Denver real estate!