The Central Park Control Tower to Receive a Major Facelift
Posted by Alex Neir on Thursday, March 14, 2013 at 10:14 AM
By Alex Neir / March 14, 2013
Comment
The Central Park Control Tower to Receive a Major Facelift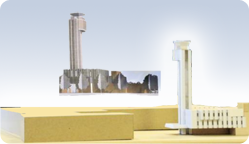 The old Central Park air traffic control tower has become a permanent feature of the neighborhood's skyline. For decades, the tower was the heart and soul of Denver's primary airport, but since the closing of the airport in the late 1990's, it has sat vacant and dilapidated. But as part of the continuing Central Park development plans, the Central Park control tower will now receive a much-deserved renovation.
Stapleton's largest developer, Forest City, announced its plans to renovate the tower in early February, finally breaking the silence over what to do with this Central Park icon. They will take on ownership of the tower, and then once renovations are complete, lease the facility back to the Central Park Master Community Association. It only seems fitting that such an important piece of Central Park history be used by the community and those living in Central Park.
Plans for the Stapleton control tower include office space and, potentially, a theater space for a community arts center. This renovation is much needed as the tower is in dire straits. Currently, the tower stands empty and in disarray. Inside, there are holes in the floor and ceiling, as well as bird carcasses, dirt, trash, and flagrant signs of vandalism. However, the structural integrity of the building is still sound and thus, the tower can be saved. For the last few decades, Central Park development has progressed around the building, yet no mention had been made about what to do with it. Now, the residents living in Central Park have something to look forward to.
The Forest City team is currently working on a plan to purchase the site, including the tower, by the end of the year from the Central Park Development Corporation. This corporation is in charge of purchasing land from Denver International Airport, who still, technically, owns the Central Park control tower. This buying-and-selling situation is not foreign to Forest City, as they have made similar land purchases from Denver International Airport to further Central Park development since the airport's closure in 1995.
Once the physical work starts, it is unsure how long the construction and renovations will take. For the people living in Central Park, the final product is eagerly anticipated and will be well worth the wait.