Capitol Hill Architecture
Posted by Alex Neir on Monday, February 25, 2013 at 1:44 PM
By Alex Neir / February 25, 2013
Comment
Capitol Hill Architecture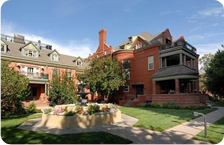 Many of Denver's numerous neighborhoods share the same architectural styles. One can find examples of the bungalow from Washington Park to the Highlands, the Denver Square from Cheesman Park to Park Hill. And while some styles are prevalent in a wide range of Denver neighborhoods, each area does offer its own style and atmosphere. This is most true in the Capitol Hill neighborhood. This area houses more historical buildings than any other in the city, making Capitol Hill architecture classically charming, timelessly interesting, and the most eclectic collection in Denver.
Living in Capitol Hill is different for everyone. Some residents may live in the quaint Denver Squares, while others find themselves in Victorian mansions or the American Foursquare. There are many celebrated homes sprinkled throughout this neighborhood that were once owned by historic icons. The infamous home to Titanic's Molly Brown is a prime example of the Queen Anne style of architecture, a popular and romantic style from the late 1880's. The Malo Mansion on East 8th Avenue is Denver's best example of Spanish Colonial revival, with its elaborate details, numerous arches, and wrought iron touches. A famously beautiful example of Capitol Hill architecture is the Weckbaugh Manison, a town house with a distinct French style from the early 1900's. And for those who enjoy the paranormal phenomenon, the elaborate Croke Patterson Mansion on East 11th Avenue is said be haunted by a ghost that has been reportedly seen on the premises.
Although these historic examples add to the extravagance and mystique of the neighborhood, it is the smaller, more popular homes that truly give Capitol Hill its charm. Most of the homes predate to the early 1900's and for years, residents have preserved the exterior and structural integrity of these buildings. As a part of Capitol Hill architecture, it is not rare to find a classic Victorian from the 1920s with the same structural details, but a completely updated and modern interior. That is one of the many perks to living in Capitol Hill. Others perks include the strong presence of the Colorado Capitol building, Civic Center Park, Cheesman Park, and the title of one of Denver's most cosmopolitan areas. There is a style for every taste in Capitol Hill.