You've Decided to Buy a New Home, Now What?
Posted by Alex Neir on Monday, October 13, 2014 at 2:45 PM
By Alex Neir / October 13, 2014
1 Comment
Congratulations, you have decided to buy a new home. That decision ushers in a flood of emotion ranging from excitement to anxiety.
In order to help with the later, we have created a home buying guide that identifies the steps in purchasing a new home.
Weather you're a first time home buyer or seasoned owner, we feel our road map helps organize and simplify the process.
There are quite a few steps when purchasing a home. The graph below is a visual representation of the home buying process.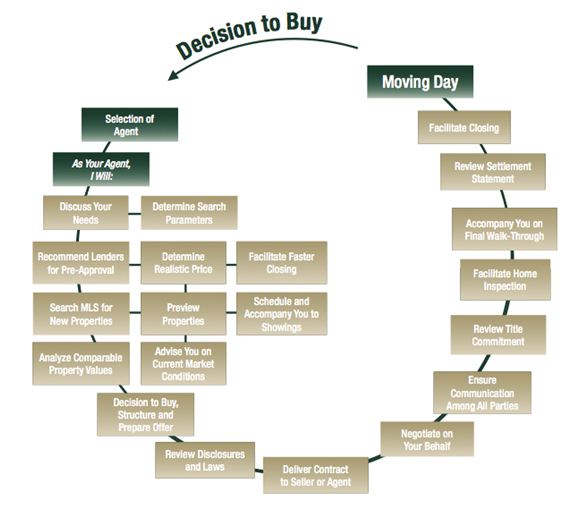 It all starts with hiring a professional real estate broker to guide you through the process. You will want to hire a broker that is an expert in the areas you are considering a purchase. More: Denver Real Estate Broker Duties, Home Purchase
Once you select to real estate professional to help facilitate your home purchase you will want to get pre-qualified/approved for your new home loan if you require financing. Selecting a lender is a very important step. Get referrals from people you trust. Then compare the personality's you relate to, with a good faith estimate.
Next up, making an offer. What makes a good offer?
Next you will want to review all of the Colorado Real Estate Disclosures with your Broker.
After your offer has been accepted the next major hurdle is the general inspection. The general inspection gives you the ability to thoroughly inspect the property to determine the level of deferred maintenance that is needed. This is fancy way of saying, what needs to be fixed. More: Denver Real Estate Inspection

After the inspection it is important to review the title insurance commitment. What is the title insurance commitment?
At the same time your lender is busy gathering the support materials needed for the loan application. Once complete the loan package, along with the appraisal is submitted to underwriting for approval. Once approved, your real estate broker is given the clear to close and the settlement figures are sent to the title company.
Once the title company has the real estate transaction figures they complete the settlement statement. The settlement statement outlines all the fees associated with the purchase of the home. Your real estate broker will review the settlement statement to ensure it is accurate.
Now, its closing time. It is always a good idea to walk the home one last time right before you go to the title company and close on the property. This ensures nothing has happened to the home you are about to be financially responsible for. Your real estate broker will arrange the final walk the hour before closing.