A Quick Look at Berkeley Architecture
Posted by Alex Neir on Monday, April 1, 2013 at 2:02 PM
By Alex Neir / April 1, 2013
Comment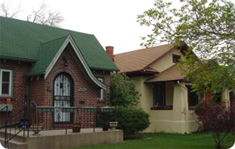 Highlands is Denver's largest neighborhood, encompassing an area from I-25 to Sheridan, I-70 to 6th Avenue. Some of its smaller areas include the trendy LoHi, the charming Sunnyside, and the growing Jefferson Park. But one of this neighborhood's most beautiful and eclectic areas is Berkeley. Situated in the northwest corner of Highlands, Berkeley is an intriguing mix of old and new, historic and modern, and the Berkeley architecture is a perfect example of this.
The entire Highlands neighborhood is currently going through a dramatic revitalization, and this could not be more apparent than in Berkeley. This area is embracing the modern housing trends, yet still holding on to its distinct and historic identity. Berkeley home styles are all over the style spectrum and help to create an interesting and eclectic mix. One can find quaint, brick bungalows and small cottages, reminiscent of the neighborhood's roots. But at a growing rate, newer duplexes and townhomes are sprouting up in the area, adding a very contemporary edge to Berkeley architecture.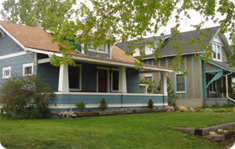 For those interested in living in Berkeley, there are numerous choices when it comes to housing styles. Along Tennyson and 38th, new developments are expanding and adding sleek residences by the day. But further away from the main corridors, historic mansions, classic tudors, and 1950's style ranch homes are frequent and help to retain Berkeley's charm. It is hard to specifically define Berkeley architecture as no one style dominates, which makes this neighborhood so fun and lively.
Living in Berkeley provides other perks outside the eclectic home styles. The famous Tennyson Street Cultural District is charming and vivacious, with locally owned restaurants, bars, and shops. And on the first Friday of every month, this commercial street comes to life with the First Friday Art Walk.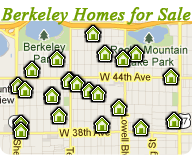 Many businesses are open late and offer music, food, and arts for everyone to enjoy. On a regular day, this street is filled with people walking the tree-lined sidewalks, taking in a quintessential dose of Colorado culture.
There are many perks to living in Berkeley, from the diverse and assorted Berkeley architecture to the cultural benefits Tennyson Street has to offer. Like the other Highlands areas, this neighborhood is modern and sleek, but still retains its classic and overwhelming charm, making it an amazing place to live.