The Architecture You'll Find While Living in Cherry Creek
Posted by Alex Neir on Wednesday, April 17, 2013 at 9:00 AM
By Alex Neir / April 17, 2013
Comment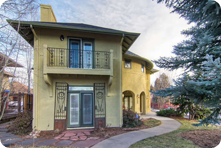 The Cherry Creek neighborhood of Denver is a vibrant, affluent, and constantly changing area, complete with one of the most popular commercial districts around and some of the most intriguing architectural styles. Located just southeast of downtown, this neighborhood houses some of the city's wealthiest, yet still offers a wide range of styles when it comes to Cherry Creek architecture.
Living in Cherry Creek offers an eclectic mix of home styles. There are the typical Denver squares and the ever-abundant bungalows. But Cherry Creek architecture has seen a steady shift towards the more modern and contemporary town homes since the 1950's. Now, for every few traditional homes, there are an equal or greater number of newer homes. These differing Cherry Creek home styles help to create a fun and interesting neighborhood, helped by constant infill projects and the renovation of the area's older homes.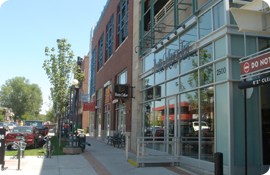 Arguably the best part of living in Cherry Creek is the location. Whether you live in a contemporary townhouse or a quaint bungalow, this entire neighborhood is just a short distance to an amazing and elaborate commercial district. The famous mall offers everything a shopper could need, from high-end brands like Louis Vuitton and Tiffany's, to the essential fares of Apple and Safeway. There are gourmet restaurants, both old and new, designer home furnishing stores, and even local law firms and small businesses. In keeping in sync with the surrounding Cherry Creek architecture, the commercial district offers a contemporary flare as seen in places like North restaurant and the Marriot hotel, but it also maintains a classic and traditional atmosphere in restaurants like Rodney's Bar and Grill.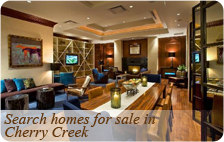 The popularity of town homes and condominium buildings has created a surge of growth in the area and a high demand for housing. The neighborhood's short drive to downtown and accessibility to main thoroughfares has only added to Cherry Creek's desirability. And with the diverse Cherry Creek architecture, the every-changing Cherry Creek home styles, and the amazing commercial district, this is definitely one of Denver's most interesting and sought-after neighborhoods!