Aloft Denver City Center
Posted by Alex Neir on Tuesday, May 28, 2013 at 3:54 PM
By Alex Neir / May 28, 2013
Comment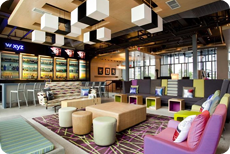 Denver has some pretty glamorous hotels, from the Ritz and the Four Seasons downtown to the JW Marriott in Cherry Creek and the Hyatt Convention Center with its breathtaking views. These internationally renowned hotels appeal to a wide range of cliental and can sometimes seem overwhelming in their grandeur. But smaller, modern hotels in Denver are starting to spring up throughout the area and are drawing in a younger, chicer group of people. A new addition has just been announced for the vacant lot at the corner of 15th and Stout and buzz is already starting to circulate about the possibilities.
Aloft Denver City Center will be the newest hotel from Starwood Hotel Denver. Word from the developer, JBK Hotels LLC, is that the hotel will offer a sleek, contemporary vibe that will appeal to a younger, urban-oriented client. The lot at 15th and Stout that will house the hotel is rather small, only 12,500 square feet. This means that the Aloft will be about 70,000 square feet in size and only reach six stories high. For those who have stayed in some of the other modern hotels in Denver, their size can be intimidating and overpowering. This small-scale hotel is definitely a welcome addition to the available hotels in the city.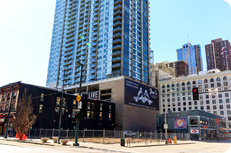 The lot is currently occupied by a rather depressing, former Burger King building. The company vacated the building in either the late 1990s or early 2000s, and has seen numerous cheap restaurants, none of which have stayed for very long. The redevelopment of this site is much needed and eagerly anticipated. The entire area has seen beautiful renovations and construction projects; the most notable is the lot's neighbor, the Spire. For those looking for a luxurious lifestyle in the Spire, this vacant lot is quite the eyesore. This area is perfect for contemporary hotels in Denver, so turning this lot into one of the hottest new modern hotels in Denver was a no brainer.
By keeping this hotel small and lower to the ground, the developers hope that it will appeal more to pedestrians. Other buildings nearby, like the Spire and the Hyatt Colorado Convention Center, rise towards the sky and loom over the sidewalks. But the Aloft will greatly improve the environment and atmosphere of this area. The project's application is currently going through the city's review process, but there are hopes that construction will begin later this year. For a city on the rise like Denver, a trendy, chic hotel will not only help the city's vibe, but it will also help the area appeal to a younger, city-living cliental.