The Advantages of Home Staging
Posted by Alex Neir on Monday, February 18, 2013 at 1:23 PM
By Alex Neir / February 18, 2013
2 Comments
The Advantages of Home Staging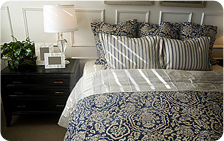 For many of those selling their homes, staging may seem like a waste of money. Why would you pay someone to set up furniture in a house you just moved out of? It is a valid concern and many homeowners struggle with this decision when it comes time to list their vacant property. But there are numerous benefits to home staging that more than out weigh its costs and can even help you sell your home faster and for more than asking price.
Habitually, human beings are very visual. But that does not mean we do not need a little help. As a homeowner who is selling a house you have lived in for a number of years, you visualize the living room with the furniture that has occupied it previously. But to a buyer who has never seen the living room before, it might look just like a big, empty space. A solid advantage of home staging is helping the buyer visualize the space, and potentially, their life there. A bedroom may seem smaller than it actually is, until a bedroom set is placed in there and the true dimensions of everything come together.
Another powerful advantage of home staging is its appeal to buyers and brokers alike. A broker is more inclined to show a home that is staged because staged homes tend to be cleaner and lack unexpected surprises. Buyers enjoy staged homes because they have a "move-in ready" vibe that empty homes lack. Professional stagers create a peaceful, inviting atmosphere, similar to that of model homes, that appeals to a vast majority of prospective buyers.
Some opponents to home staging may claim that "buyers want to visualize their own furnishings in the space and staging detracts from that". In reality, a buyer may look at an empty dining room and think the space is too small for their existing dining room table. Home staging can help prove that the dining area is, in fact, large enough for a table by providing a solid, physical example.
The best way to approach home staging is as an investment. While the up front costs may seem like a lot, staging your home can help it sell for more than asking price-completely paying for the staging-and it will most likely help your home sell faster, eliminating carrying costs. Buyers are looking for a house that has a real "wow" factor, and home staging can help give your home that extra boost!