A Glimpse at Congress Park Architecture and History
Posted by Alex Neir on Tuesday, February 12, 2013 at 4:43 PM
By Alex Neir / February 12, 2013
Comment
Congress Park Architecture and History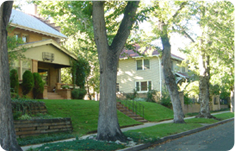 The lesser know Congress Park may seem overshadowed by its dominant neighbors: Cheesman Park to the west, City Park to the north, and Cherry Creek to the south, but this classic neighborhood is rich with an interesting history and vibrant Congress Park home styles. This portion of town offers access to the best parts of Denver, while still maintaining its character all its own.
Many of those currently living in Congress Park may not know how it came to be. Back in the mid-1800s, the area now called Cheesman and Congress Parks was a cemetery, called Prospect Hill Cemetery. As Denver did not have strong ties to any one religion, the cemetery was divided into separate areas for each faith, including Christianity, Catholicism, and Judaism. When Denver's population started to growth rapidly towards the end of the 19th century, the cemetery fell into ruins. In order to meet the demands of the growing housing need, the holy ground was converted to two distinct parks, and neighborhoods began to flourish around them. Another housing boom added to these neighborhoods in the 1940's, when Denver's population hit another growth spurt. As evident today, Congress Park architecture has deep roots in this history.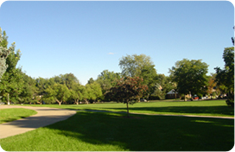 The streets of Congress Park offer a wide variety of architectural styles, ranging from quaint bungalows to classic Victorians, Art Deco apartment buildings to 1960-style high rises. There are Congress Park home styles for every taste. But the Congress Park architecture must abundant in the neighborhood, and more so here than anywhere else in Denver, is the two-story Denver Square. This architectural style is characterized by its substantial size and three to four bedrooms. These homes may look like bungalows on the front façade, but they have an extra floor and intricate, ornate exterior detailing. During the early 1900's, the Denver Square was the home choice for the growing middle class.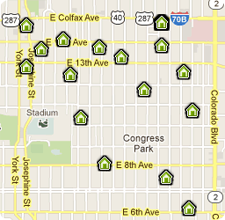 Living in Congress Park offers a historic feel supplemented by modern flare. Many residents completely modernize the interior of Congress Park homes, but choose to leave the classic exteriors untouched, giving Congress Park architecture an update, yet historically interesting, atmosphere. It may not be the most popular or the most talked about neighborhood in Denver, but it one of the most charming. And with its close proximity to everything great about Denver and its amazing Congress Park architecture, this neighborhood's popularity has only been growing!